Took a week off to head to the beach and do other fun stuff. I'm actually tired of saying that relaxing is more tiring that working.
Had a super fun LAZERCRUNK this past friday with guest Shiftee, hit up Park Bruge, the Arts Fest, Ian Michael Black's comedy show and the OJO ..er..'experience' that Bricolage put together,
hung with the family for father's day and capped it off with the Game of Thrones season finale. Couldn't really ask for more.
Mostly avoided digital un-reality for the past week, but catching up on some goings on, here's a few things I can recommend this week:
$4 – $5 Donation At Door For Touring Bands
+ EXTANT
(APT 421 Tapes, Vague Output // Baltimore, MD)
___ All-hardware electronic noise musician, Josh Laskin, emerges from the Baltimore underground on a brief tour of the east-coast. Exhibiting a wide array of textures, Laskin conjures sonic imagery that lies somewhere between ethereally busted and the utterly dismal.
+ DWAYNE RIFLE
(Firehazard Records // Pittsburgh, PA)
http://dwaynerifle.bandcamp.com/
___ Found object, broken instrument & tape improvisation.
+ MICAH BLACKWELL
(Pittsburgh, PA)
___ Well-versed in rhythms, noise (and pseudonyms), Micah Blackwell takes an unpredictable approach to sound, utilizing diverse set-ups and unique arrangements… expect the unexpected!
+ WASP NEST HEAD DRESS
(Turtle Creek, PA)
http://waspnestheaddress.bandcamp.com/
___ The claustrophobic harsh noise/ power electronics offerings of Eric Ross. In the words of the man himself, "depressing sounds presented by someone full of fucking nothing."
+ BUOYHOOD
(Unknown Tone Records, Firehazard Records // West Mifflin, PA)
___ Improvised sound-collages and manipulated analog samplings from the buckled & dripping mind of Zach Katonik.
Abandoned Store
2448 Woodstock Ave, Swissvale, Pennsylvania 15218
RSVP https://www.facebook.com/events/255562461295464
THURSDAY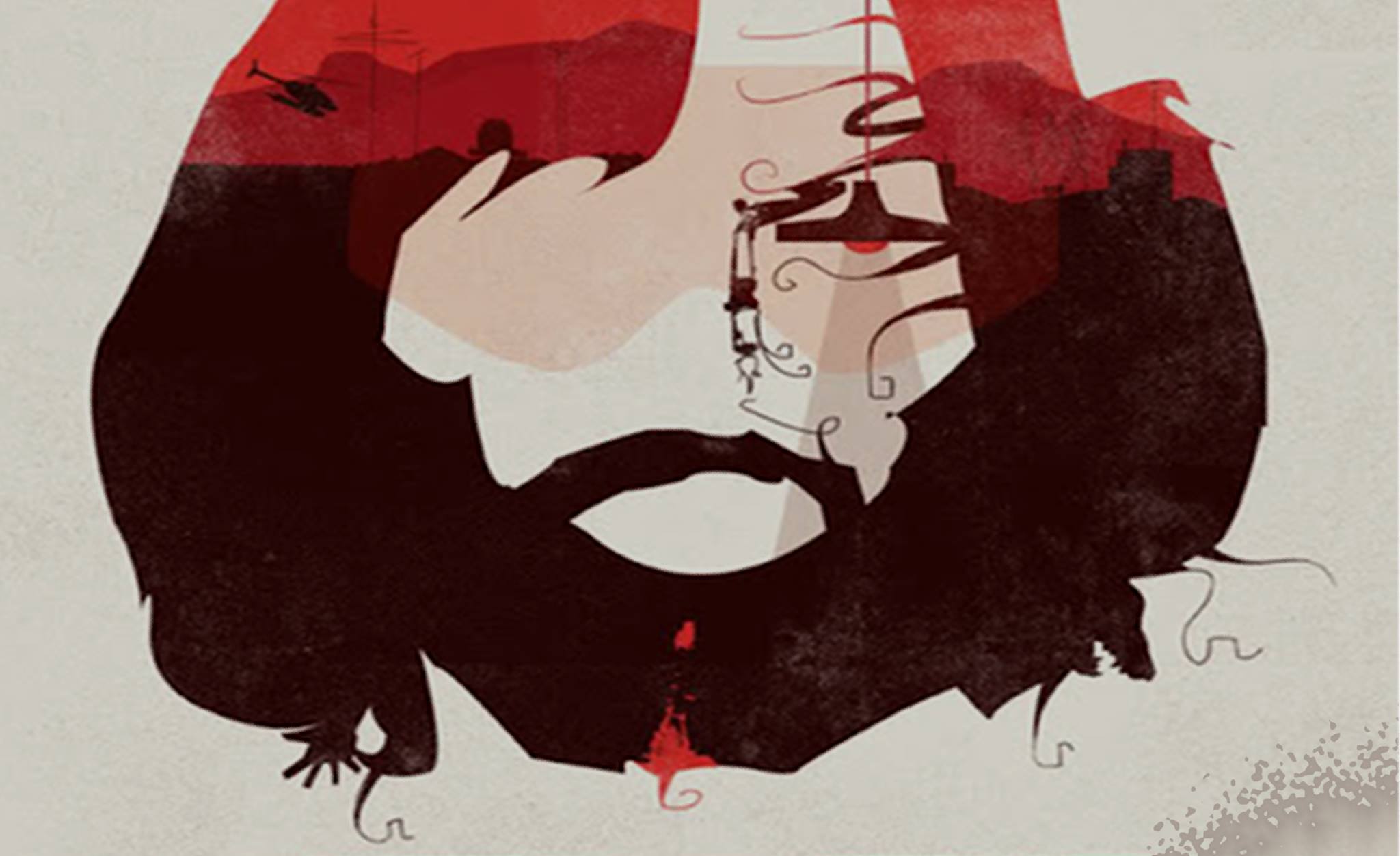 BROUGHTON'S RULES
ex-Bluderbuss/Don Cab just finished new LP for Relapse!!
NIGHT VAPOR
new 7″ on Mind Cure coming soon, chief!!
DENDRITIC ARBOR
split 7″ with Communion Of Thieves out now!!
Lava Lounge
2204 E Carson St, Pittsburgh, Pennsylvania 15203


TOMASZ SKOWROńSKI – Apteka, Salad Daze(WRCT)
http://www.wrct.org/show/606/
+ SUNSHINE FILLED SETS FROM OUR RESIDENTS
A.P.
NAEEM
Visuals by
Ben Tabas
We're excited to have our friend and all around shining individual Tomasz do a set for us. Weekly he charms our ears with his selection of synthesized sounds on "Salad Daze" his weekly radio show on WRCT. Monthly he fills our bellies as one of the driving forces behind Pierogi Night and the catering business Apteka. Whether you catch him behind the decks or in the kitchen, you can always count on him to bring a smile to your face.
The residents will be providing sunshine filled sets of the house, techno, disco, synth, and a variety of other bright selections mixed in.
Thursday, June 19th
10:00
$3
brillobox
Friday June 20th at Belvedere's is:
GET WEIRD! Totally Badass Action Party
Everyone remembers growing up and wanting to be like your favorite action star and blow up anything and everything humanly possible, then end up with a super sweet babe at the end. Come dressed as your favorite action star, check out the Explosive Visuals provided by ProjectileObjects, and just be a complete badass for the night.
w/ Music From Guest DJ:
CUTUPS
www.soundcloud.com/cutups
and Resident Badasses:
ADAM-C
www.soundcloud.com/cucitroa
DIZCREPANCY
www.soundcloud.com/dizcrepancy
Explosions and other Visuals By
CORNELIUS
————-
B E L V E D E R E ' S
Friday June 20th
9PM – 2AM
$3 Before 11 / $5 After
21+
www.facebook.com/getweirdpgh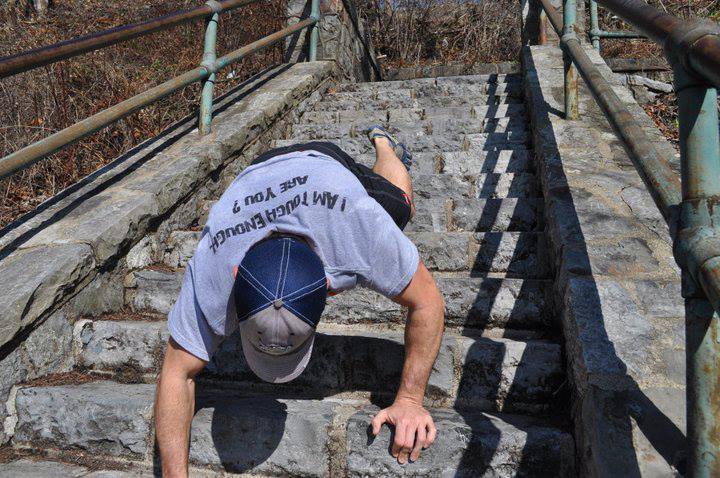 Saturday is the first day of summer and we're trying to get in the solstice mood. We're making some bao bun sandwiches, and in the spirit of a kicked-back summer attitude, we're taking some liberties and pulling together our favorites of south east Asian cooking to make these guys really special (we're looking at you, Burma). So after you pull those whatchacallit wrappers off your back that you picked up at the polish hill pool, waddle on over and eat with us.
No shoes, no shirt, no problem- this is a pirate ship- that's appropriate attire.
$10 buffet
$10 take-out (5 pierogi + 1 big bao)
As always, all vegan. Bao buns- Gluten Free.
Follow us Pierogi Night and twitter: @pieroginight
Stephen Foster Community Center
286 Main St, Pittsburgh, Pennsylvania 15201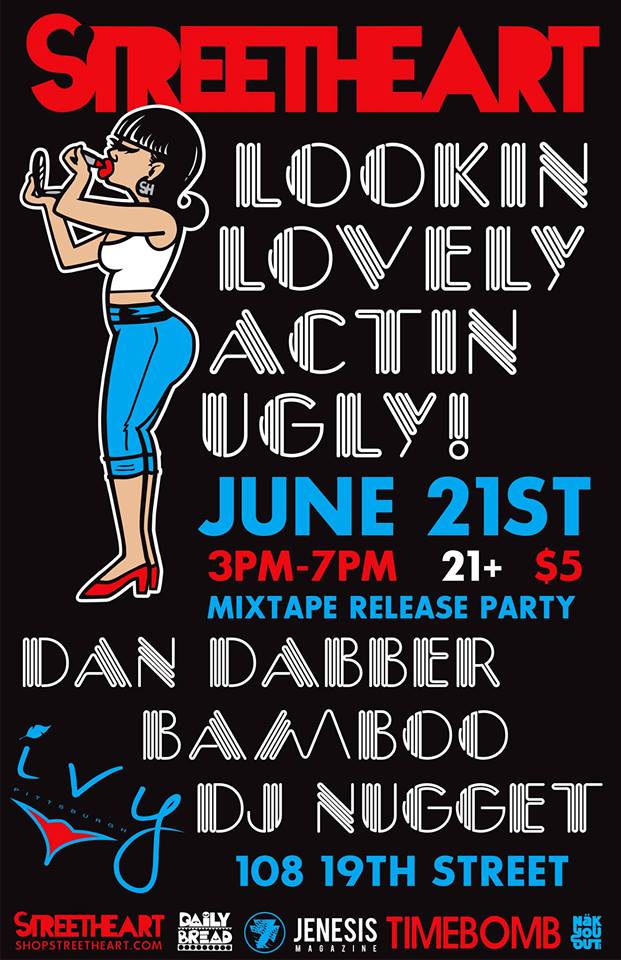 Come join Streetheart June 21 as we launch our summer mixtape "Lookin' Lovely, Actin' Ugly! mixed by Dan Dabber. We will be having a day party on the outside deck at IVY Pittsburgh with our favorite DJs
Dan Dabber
(reggae/dancehall/soca)
Bamboo
(Hiphop/trap/electronic/turntablism)
DJ NUGGET
(Hiphop/electronic/dance)
There will be catering from Penn Mac and some other goodies available for everyone to snack on.
This is the perfect event to grab a bottle/VIP table, there is a limited availability so call and reserve your table today!
412.538.7345
VIP@ivypgh.com
3pm-7pm
$5 (The first 50 people thru the door receive a free cd)
21
IVY Pittsburgh
108 19th St, Pittsburgh, Pennsylvania 15222