Back to the weekday "grind" if you want to call it that. More than a few good things on the docket this week. Here's my picks.
TUESDAY

$20 Presales – http://bit.ly/andycpgh
1337 Proudly Presents
♦ ANDY C ♦
In the world of electronic music, there are few bigger names than that of Andy C.
Regarded as one of the greatest DJs ever to touch a turntable, the Ram Records founder has relentlessly dedicated almost two decades of his life to the music he loves, flying across the globe week in, week out, to demonstrate a mastery of craft that has earnt him a status as one of the most iconic and important figures in global dance music culture.
♦ MC ARMANNI REIGN ♦
▶ Local Support ◀
● CUTUPS & KEEBS ● (Lazercrunk/412DNB)
● DEPTH ONE ● (OBVIOUS)
● THUMPTY JUMPTY ● (1337)
● GUFT ● (1337)
▌$20 Presales / $25
▌17 +
▌9pm – 2am
▌The Rex Theater
▌1602 East Carson St.
▌Pittsburgh, Pa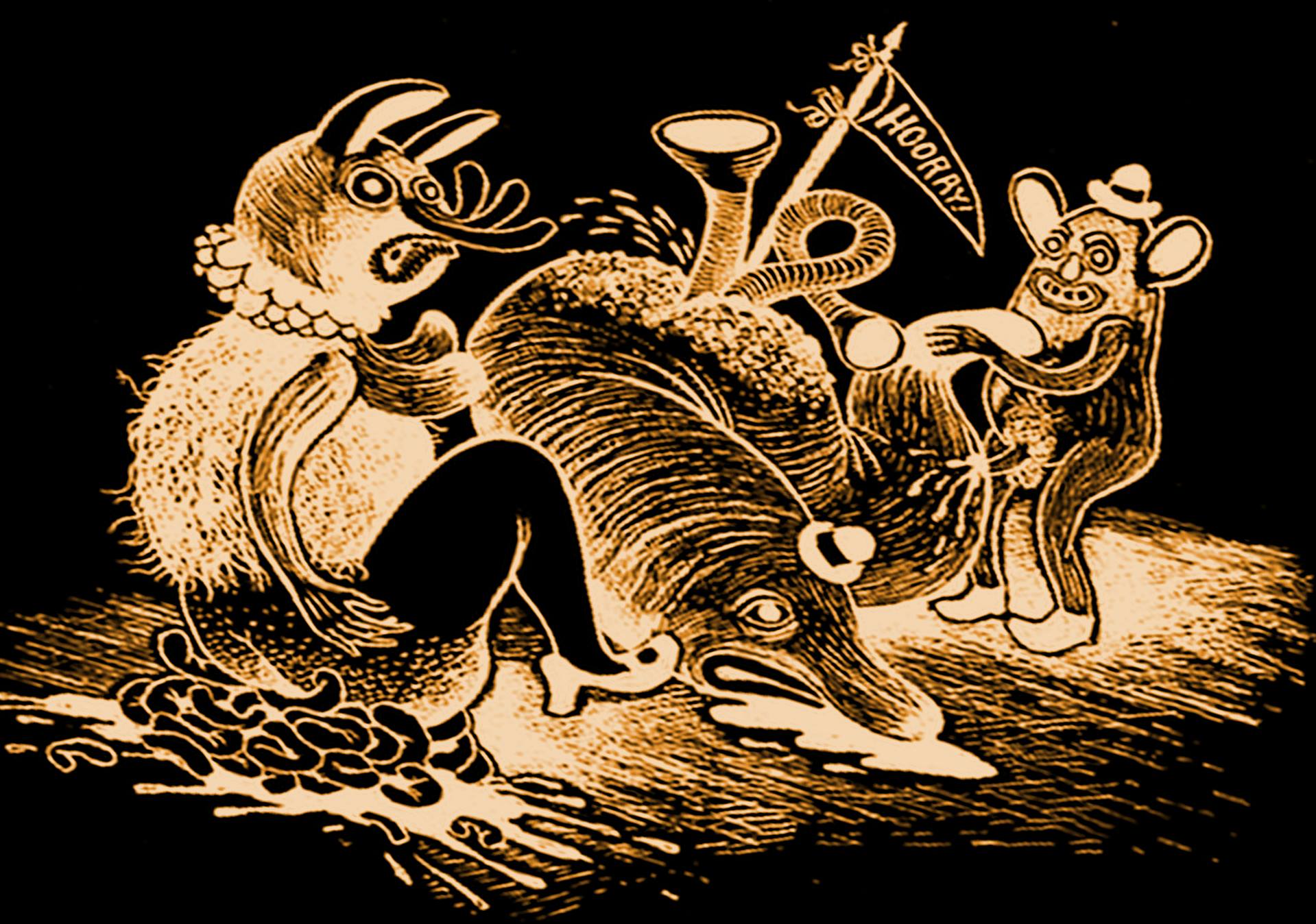 GUERILLA TOSS
wild-ass basement freaks from Boston on Tzadik / NNA Tapes
LOVELY LITTLE GIRLS
body-horror prog-lounge orchestra from Chicago on SKiN GRAFT Records
with lokillz RADON CHONG and OUTLANDER
$7 TO COVER THE COSTS OF TOURING IN THE YEAR 2014
Howlers Coyote Cafe
4509 Liberty Ave, Pittsburgh, Pennsylvania 15224
WEDNESDAY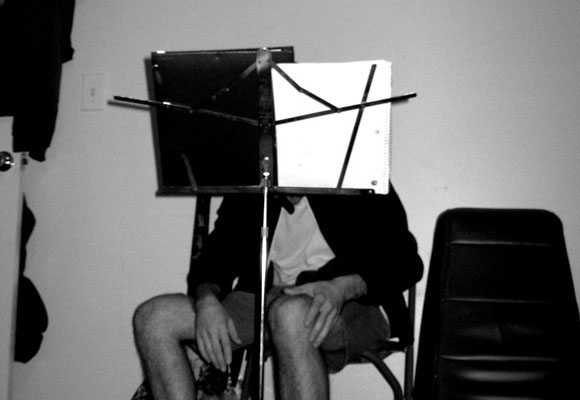 $5 – $7 Donation At Door For Touring Bands
(BYOB or just pay whoever brings the dang hooch)
+ FAUN AND A PAN FLUTE
(Mission Trips // Atlanta, GA)
http://faunandapanflute.bandcamp.com/
___ "Faun and a Pan flute are a 9-piece orchestral/experimental/psychedelic rock ensemble (incorporating marimba, cello, sax, tuba, etc) with an interest in sprawling composition and collective improvisation. They labor intensely to create pieces of music that are dynamic, challenging, and, they hope, beautiful… " – Mission Trips
+ SMOKEY EMERY
(Kendra Steiner Editions, Holodeck Records // Austin, TX)
http://smokeyemery.bandcamp.com/
___ "Snippets of what appears to be drugged-out classical music, field recordings, short bursts of noise, and perhaps some recorded instrumentation all factor into the primordial ooze that Hipólito conjures forth from his array of loops. Suspenseful and subtle, the nine compositions unfold in a lumbering pace, like shifting tectonic plates… " – Decoder Magazine
+ MAGICICADA
(Mission Trips, Public Guilt // Atlanta, GA)
http://www.imposemagazine.com/bytes/magicicada-once-i-was-a-little-light-mp3
___ "Magicicada is a solo experimental electronics artist whose sound has been described as a dark and ever-shifting sprawl of sounds presents a beautifully grotesque display. Jumping from macro-noise collages and spastic free improvisation to highly focused broadcasts of frazzled drone, White reveals his perfected hand in fine tuned post-production… " – Bobby Power
+ BA'AD TRIP
(Pittsburgh, PA)
http://baadtrip.bandcamp.com/
___ True sidewalk surfers — Lo-fi. Punk. Reverb. Satan. Skateboards. Good Beer. Heave Evil.
+ :TROPIC
(Pittsburgh, PA)
https://soundcloud.com/tropictunes
___ Minimal experimental dub/ ambient from the mind of Stephen Hager.
Abandoned Store
2448 Woodstock Ave, Swissvale, Pennsylvania 15218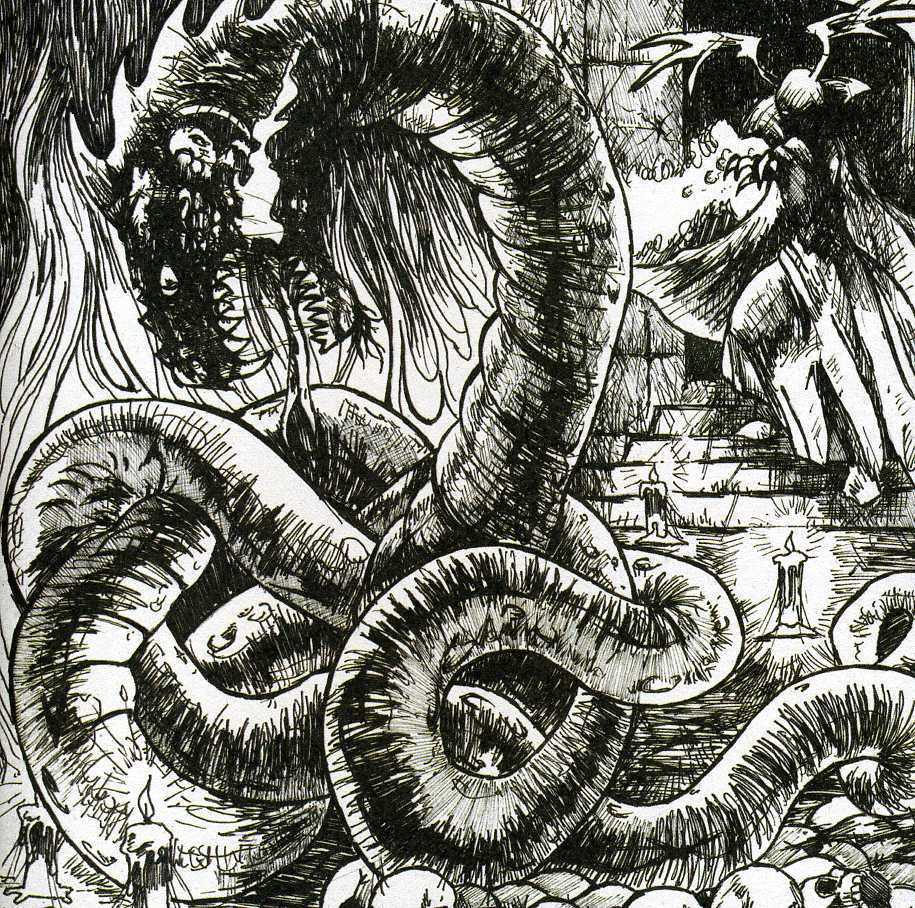 Begrime Exemious
Blackened Death Metal from Edmonton, Canada
https://www.facebook.com/begrimeexemious
http://begrimeexemious.bandcamp.com/
Wrought Iron
PGH Black Metal
https://www.facebook.com/wroughtironpgh
http://wroughtiron.bandcamp.com/
Post Mortal Possession
PGH Death Metal
https://www.facebook.com/postmortalpossession
Cryptic Yeast
Electronic Metal
https://www.facebook.com/crypticyeast
http://crypticyeast.bandcamp.com/
21+
$7
8pm
Howlers Coyote Cafe
4509 Liberty Ave, Pittsburgh, Pennsylvania 15224
THURSDAY

THURSDAY JUNE 26 CHICHA LIBRE on Barbes Records from NYC.
Chicha Libre plays a mixture of latin rhythms, surf and psychedelic pop inspired by Peruvian music from Lima and the Amazon. The Brooklyn collective is made up of French, American, Venezuelan and Mexican musicians who mix up covers of Peruvian Chicha with original compositions in French, Spanish and English, re-interpretation of 70's pop classics as well as cumbia versions of pieces by the likes of Satie, Love and Wagner.
Chicha is originally the name of a corn-based liquor favored by the Incas in pre-colombian days. Chicha is also the name of Peru's particular brand of cumbia first made popular in the late 60's.
Opening up will be Gena y Pena.
Doors at 6pm show around 8pm
Bayardstown Social Club
The Strip District, Pittsburgh, Pennsylvania 15201
FRIDAY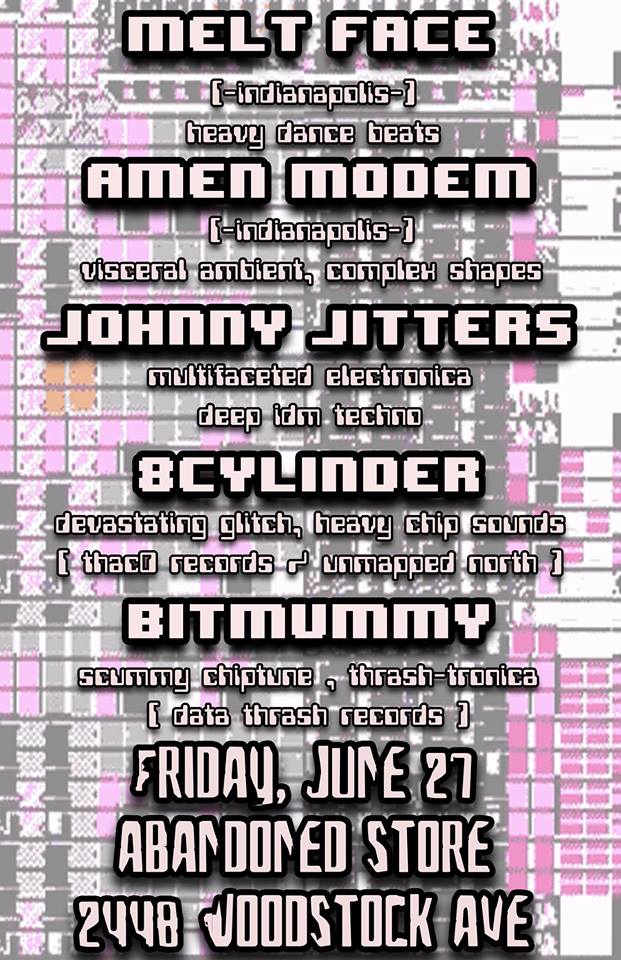 A night of sweet cacophony @ The Abandoned Store
with touring musical acts….
Melt Face
(indianapolis, IN)
heavy dance beats
Amen Modem
(indianapolis, IN)
visceral ambient, complex shapes
and locals….
Johnny Jitters
multifaced electronica
deep idm techno
8cylinder
devastating glitch, heavy chip sounds
(thsc0 records/unmapped north)
Bit Mummy
scummy chiptune, thrash-tronica
(datathrash records/scolex records)
Free to get in, but we are taking donations for the touring bands. Come party with us!!!!
Abandoned Store
2448 Woodstock Ave, Swissvale, Pennsylvania 15218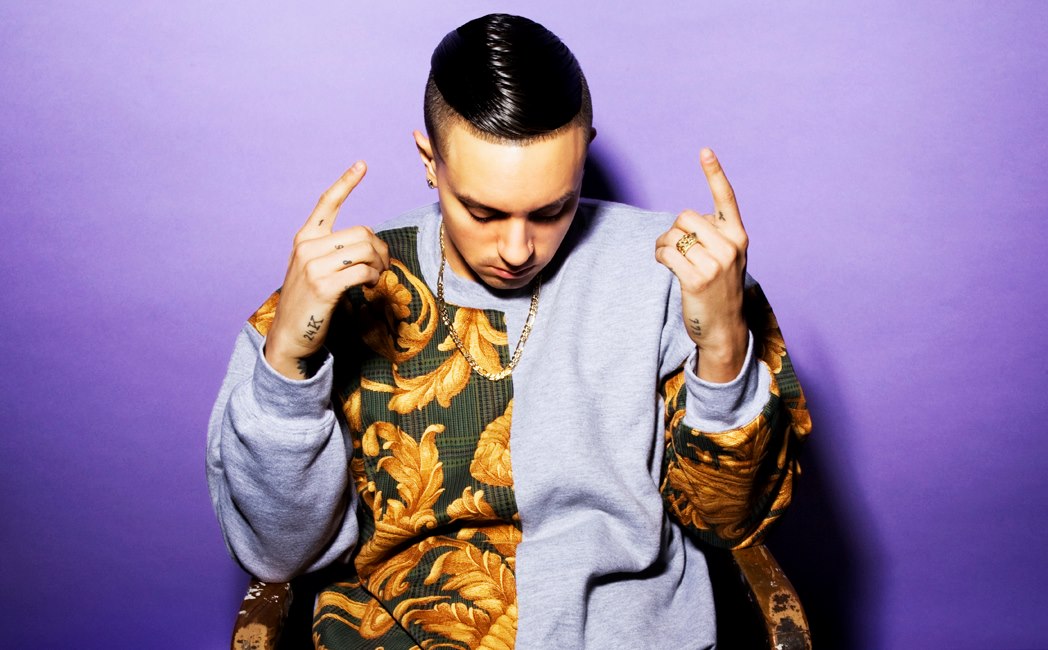 GOLD SERIES :: every Friday at Round Corner Cantina
Back again after memorable gigs with VIA (2011 festival, 2013 NYE) and LazerCrunk, Brenmar's coming to make them booties pop.
Cover $10 after 10PM
$5 Champagne special 9pm-2am
BRENMAR ****
New York City by way of Chicago producer and dj, BRENMAR represents a strange musical paradox. Somehow defying the odds, he marries the artificial gloss of commercial R'n'B and Hip Hop with the urban grittiness of underground dance music (Chicago ghetto house, UK bass, Jersey club). His remixes/edits/and productions have taken him to both coasts of the U.S., Canada, Japan, Mexico, Australia and the EU – frenzying crowds with his up-tempo, neon-drenched tunes. Always difficult to define, the elements that make up Brenmar's music contain an extravagant medley of influences. Take a pinch of Mannie Fresh snares, a handful of DJ Rashad toms, a dose of basslines from the UK, a generous portion of Hot 97 vocalists, poach it all in a synthesizer broth, and garnish with some Timbaland sheen. You're getting close.
http://brenmar.biz/
BOO LEAN ****
(aka Lauren G ) Co-founder of VIA, her dj sets are rumored to make a few azzs drop. Why she's coming to the party as the Boo is still unknown.
http://www.via-pgh.com/
DJ BAMBOO ****
Vince Gancia is a young and talented performer. Classically trained in music, having played violin, guitar, and piano, his ear for music was formed at a very early age. Vince was a part of numerous state orchestra's as well as participating in his school's program for nine years. In college, he hosted his own radio show for two seasons. Bamboo has just recently stepped in Pittsburgh's club scene, rocking lounges and nightclubs around the city every weekend. He has also competed in numerous DJ Battles across the country (1st place Combat DJ Battle Pittsburgh, 2nd place WATC/InkFest Live Washington DC, National finalist [4th overall] Coast2Coast DJ Battle Miami, Florida). Bamboo recently finished as 2nd runner up in the 2013 Red Bull Thre3style – Pittsburgh. With a great ear for music and eye for the crowd, Bamboo will definitely keep your dance floor packed. For bookings please e-mail deejaybamboo@gmail.com or fill out the booking form on the website.
http://djbamboo.com/
Round Corner Cantina
3720 Butler St, Pittsburgh, Pennsylvania 15201
Obvious Productions is proud to present another of our favorite Dirtybird artists, Christian Martin.
******************************************************************************************************************************************
-Christian Martin// Dirtybird (SF)
@[null:https://soundcloud.com/christianmartin] @[null:https://soundcloud.com/leroypeppers]
-Gusto//DETOUR (PGH)
-Tenova// Obvious (PGH)
Lasers by: Doctor sound System
******************************************************************************************************************************************
DEETES:
June 27th
$10// 9:30 pm- 2:00 am// 21+
Belvederes Ultra-Dive
4016 Butler Street
Pittsburgh 15201
SATURDAY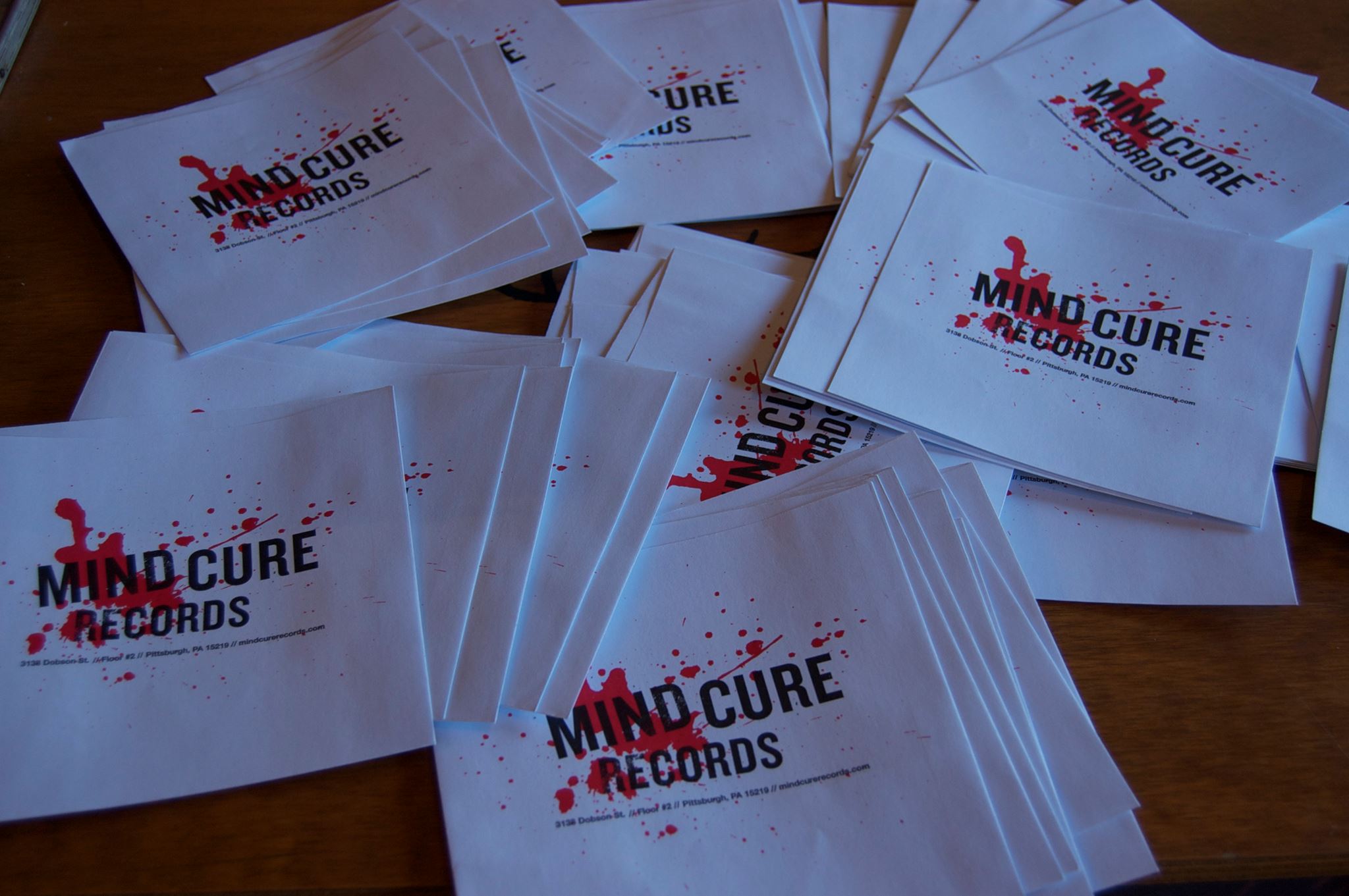 Saturday June 28th come celebrate the 4th anniversary of The Mind Cure Records store and also the 4th anniversary of business at 3138 Dobson St in Polish Hill. We will also be wrapping up the year of singles that came out each month since last year with the release of the last single in the series and if all goes to plan have the complete box sets of all 12 singles available for sale. More details to come!
Mind Cure Records
3138 Dobson Street, 2nd Floor, Pittsburgh, Pennsylvania 15219
SUNDAY
CommonWealth Press and TROIKAskateboards are having a grill out skate demo thing w w bands Carousel and Tilts this sunday. free show. free hot dogs. game of skate w prizes. skate.eat.rock.
inand out of the Murderroom
Commonwealth Press Warehouse
23rd St, Pittsburgh, Pennsylvania 15203