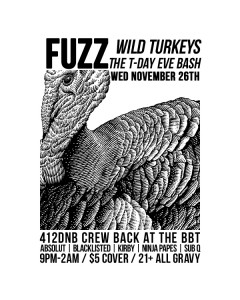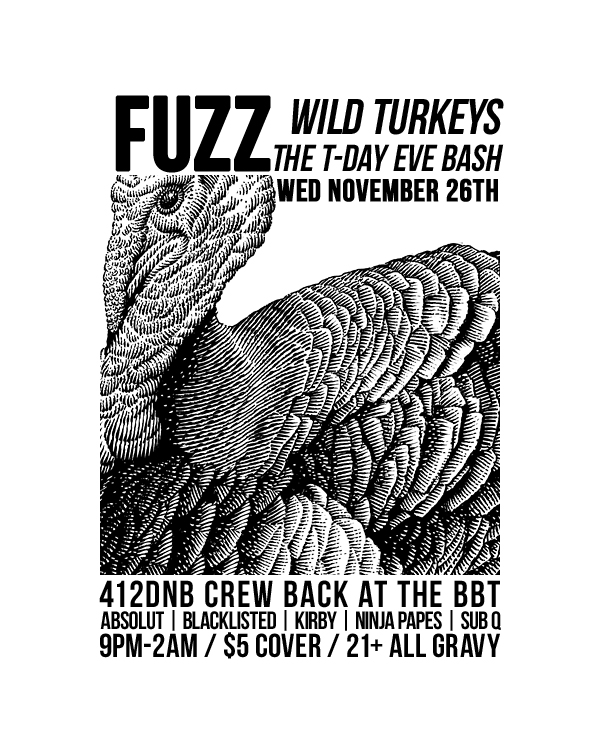 That's right! The night before Thanksgiving has traditionally been reserved for earth-shaking bass and dancing until the wee hours, and we refuse to disappoint!
Join us at the cradle of Pittsburgh DnB, our old home for the 14 year-old weekly FUZZ to reunite with friends and make some new ones as we provide 5 unique and highly stylized sets from Pittsburgh's own all Drum and Bass crew.
The Lineup:
9pm-10pm Absolut aka Todd Keebs
10pm-11pm Sub Q aka Darby Hoffman
11pm-12am Blacklisted aka Chad Waller
12am-1am Ninja Papes aka James Ivan Xavier Forosisky
1am-2am The one and only Sean Kirby
DOLLAR BEERS are available between 10 and 12. Ask your lovely bartender which are included in the special.
The second most delicious polish food in the world (second only to your nana from the old country's) is available until 11pm. Pierogies are delicious.
Some of the most quality and top-of-the-line sound will be provided by our friend Bob Teagarden , so you are guaranteed to feel that bass in your very core.
The cover for this event will be $5.00.
AS ALWAYS please come with a valid and up-to-date form of photo identification and you'll be good to go.
We can't wait to see everyone there for this momentous occasion. I miss yinz!