I slacked on these for a long time, but I'm looking to bring them back, along with a couple new projects that I'll announce over the next several weeks.
First thing, I started a new forum. http://arcane.city
It's open topic, moderated, and vaguely Pittsburgh based (for now). It's based on the modern Discourse forum software, which is pretty nice.
Check it out, sign up, post away yr problems.
On to what's up this week.
THURSDAY
Massive noise / experimental fest in Millstone WV this weekend, starting Thursday.
RSVP https://www.facebook.com/events/836844256354825/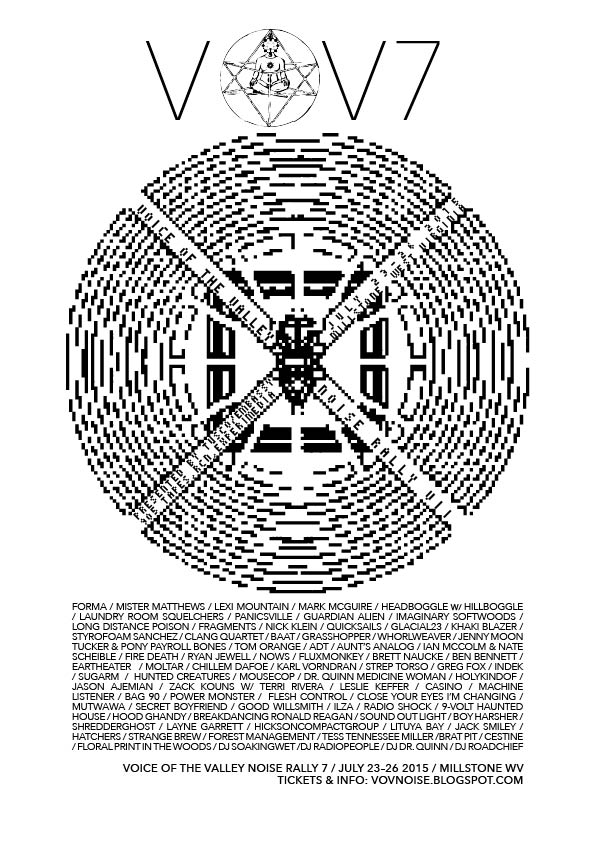 Tusco/Embassy Press presents…
in conjunction with 905 Tapes / Rubber City Noise / experimedia
Voice of the Valley Noise Rally 7
VOV7 — JULY 23–26 2015 — MILLSTONE WV
http://www.voiceofthevalleynoiserally.com/
DIRECTIONS //
From North: :http://bit.ly/vov7fromnorthprint
From South: http://bit.ly/vov7fromsouthprint
Smoother Alternative from 77: http://bit.ly/vov7easy
Forma//Mister Matthews//Rodger Stella//Lexi Mountain//Mark McGuire//Headboggle w/ Hillboggle//Laundry Room Squelchers//Panicsville//Guardian Alien//Imaginary Softwoods//Long Distance Poison//Tatsuya Nakatani//Nick Klein//Angela Sawyer//Crank Sturgeon//Leslie Keffer w/ Sharkiface and Fletcher Pratt//Quicksails//Glacial23// Khaki Blazer//Styrofoam Sanchez//Clang Quartet//Baat//Shingles//Whorlweaver//Jenny Moon Tucker w/ Pony Payroll Bones//ADT//Ian McColm/Nate Scheible//Fire Death//Ryan Jewell //Nows//Fluxmonky//Brett Naucke//Eartheater//Ben Bennett//Moltar//Chillem Dafoe//Trogpite//Karl Vorndran//Strep Torso//Greg Fox//Indek//Sugarm//Hunted Creatures//Mousecop//Dr. Quinn Medicine Woman//HolyKindOf//Zack Kouns//Machine Listener//Bag 90//Power Monster//FleshControl//Close Your Eyes I'm Changing//Secret Boyfriend//Good Willsmith//Radio Shock//9-Volt Haunted House//Hood Ghandy//Breakdancing Ronald Reagan//John Doe USA//Sound Out Light //Boy Harsher//Shredderghost//Layne Garrett//hicksoncompactgroup//Jack Smiley//Hatchers//Strange Brew//Adam Miller//Brat Pitt//Cestine//Gator Boi//Aunt's Analog//Floral Print in the Woods
DJ Soaking Wet
DJ Radiopeople
DJ Dr. Quinn
DJ Roadchief
DJ Phil Dagaps
***get tickets @
http://www.voiceofthevalleynoiserally.com/tickets.html
—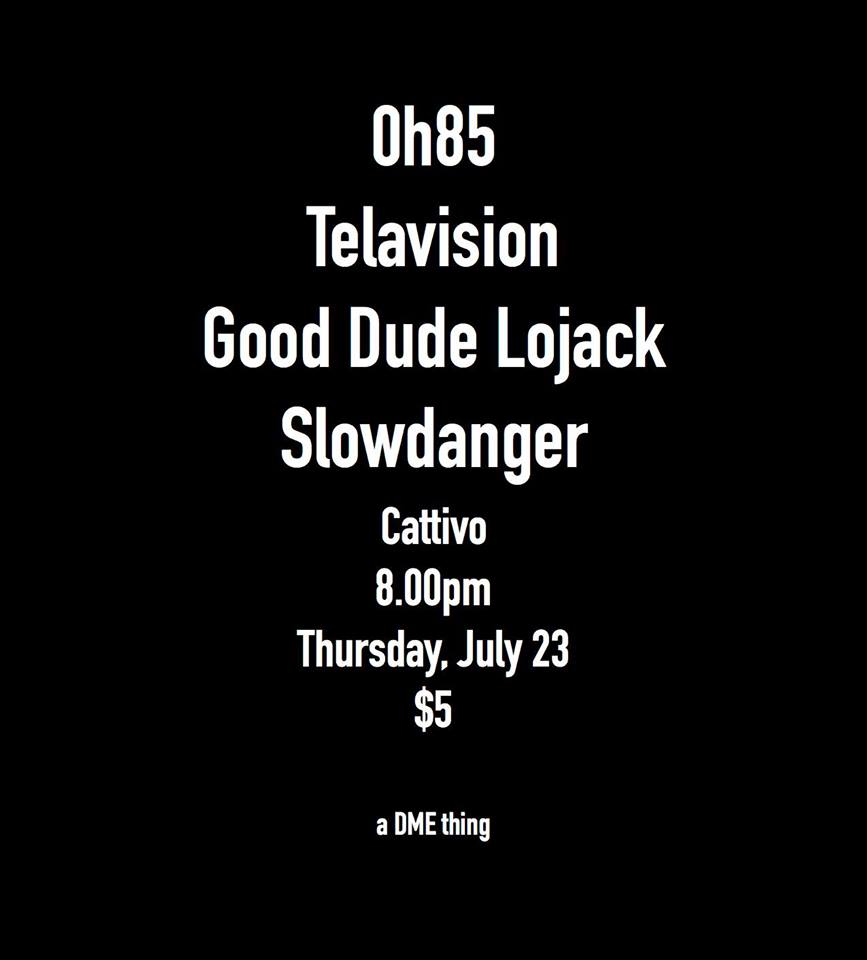 A variety of local producers on the DME agency playing at Cattivo. Looking forward to peeping 0h85 who is doing some great footwork tunes.
a DME thing
800 Slowdanger
830 Good Dude Lojack
900 Telavision
930 0h85
Sets will be short so don't be late
8 sharp
$5
Cattivo
146 44th St, Pittsburgh, Pennsylvania 15201
RSVP: https://www.facebook.com/events/106597256352618/
—
FRIDAY
Monster SQUAD screening at the Hollywood on friday!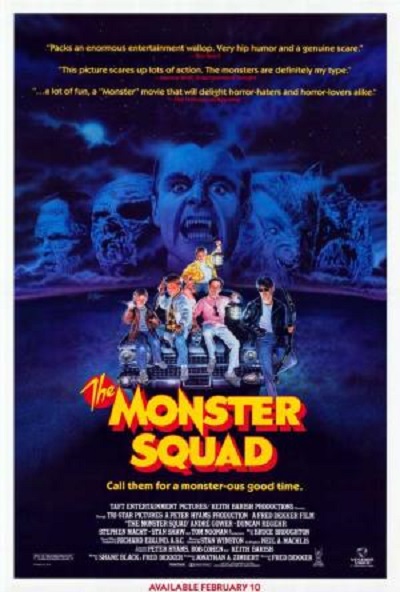 Join the Hollywood Theater and Horror Realm in welcoming actor Andre Gower in person for a special presentation of his 1987 film THE MONSTER SQUAD, the horror comedy film written by Shane Black and Fred Dekker and directed by Fred Dekker (who also wrote and directed Night of the Creeps). It was released by Tri-Star Pictures on August 14, 1987. The film features the Universal Monsters (re-imagined by a team of special effects artists including Stan Winston), led by Count Dracula. They, in turn, combat a group of savvy kids out to keep them from controlling the world.
Tickets are $8 for adults, $6 for seniors (65+)/kids under 12/students with valid ID and $5 for theater members.
Autographs available for a separate charge.
You can also meet Andre at Horror Realm Con & Pop Expo that same weekend. Convention admission is not included in the film ticket
—
Interesting art/experimental show at Modern Formations…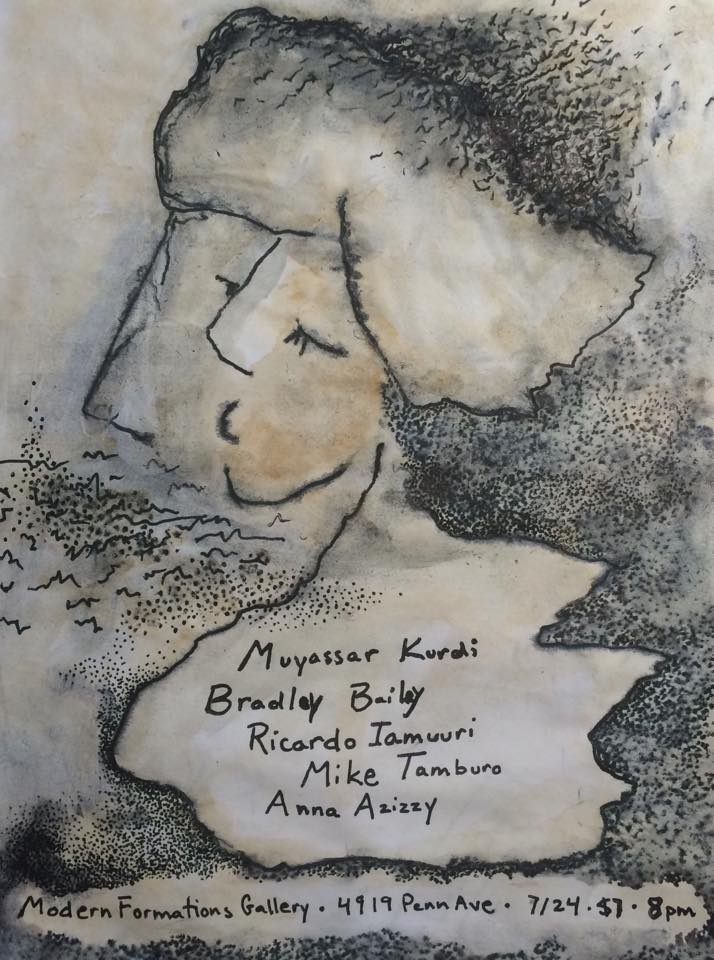 __Muyassar Kurdi [Chicago] "Multi-instrumentalist Muyassar Kurdi flits across the Chicago scene as a benevolent fixture of DIY shows, informal house jams, and magick rituals, glimpsed in the corner of a dim room swaying under a veil to the rhythms pouring from the PA. Her own solo output under her given name and the Humminbird moniker spans a wide range of drone, noise, and ambient experimentation, animated by her keening vocal delivery and the tones of her autoharp processed into sheets of reverbed caterwaul. Her irregular tunings and heavy effects manipulation render the autoharp an atonal self-accompanist, possessed of fine-grain details and a mix-consuming dynamic range that fixes our attention somewhere between claustrophobic discomfort and liberation. Kurdi's voice escapes in a theatrical bellow that evokes Diamanda Galás's plague mass invocations as it floats over the din in clear and ringing tones."
-Tiny Mix Tapes
https://muyassarkurdi.bandcamp.com/
__Bradley Bailey [NYC] throat singer, jazz guitarist, traveler extraordinaire

https://intoxicatedtourists.bandcamp.com/track/morocco-tobocco
__Ricardo Iamuuri
"Ricardo Iamuuri Robinson is an audio visual artist. His work explores the relationship between sound, object and space. He is founder and owner of SONARCHEOLOGY STUDIOS, a recording studio dedicated to creating audio tours, Foley art, sound compositions, audio books and scores for film and theater. His work has been funded by The Pittsburgh Foundation and the Lyman Fund, and featured in the Emmy Award-winning documentaries In Country: Vietnam and Jim Crow Pennsylvania. He has also recorded & released two full-length albums: Conversations with Shepherds, Sheep, Guinea Pigs and Monkeys: Nursery Rhymes for the Underfed Minds, Vol. 1 and Conversations w/ Aliens, Automatons, Paper Kings and Plastic Dreams: Nursery Rhymes for the Unfettered Minds, Vol. 2. He is based in Pittsburgh, where he lives with his daughter, Amiel."
https://sonarcheology.squarespace.com/

__Mike Tamburo
"Pittsburgh's Mike Tamburo (Brother Ong) is a multi- instrumentalist, who plays hammered dulcimer, shahi baaja, gong, guitar, autoharp, swarmandal and a slew of effects. He is greatly inspired by American folk and minimalist music traditions as well as Indian classical music."
https://miketamburo.bandcamp.com/
__Anna Azizzy
Exploring an inability to think, feel, or progress through sculpture, noise, and performance. Anna is studying Experimental Theater and Sculptural Performance at Carnegie Mellon University.


Muyassar Kurdi, Bradley Bailey, and Mike Tamburo will close out the night with an improvised trio.
Modernformations Gallery
4919 Penn ave
8pm
$7
Modern Formations has wonderful artwork on display. Take a nice look.
RSVP: https://www.facebook.com/events/1595312760750707/
—
Then, later a really cool show of remixed tunes from 80's sci-fi…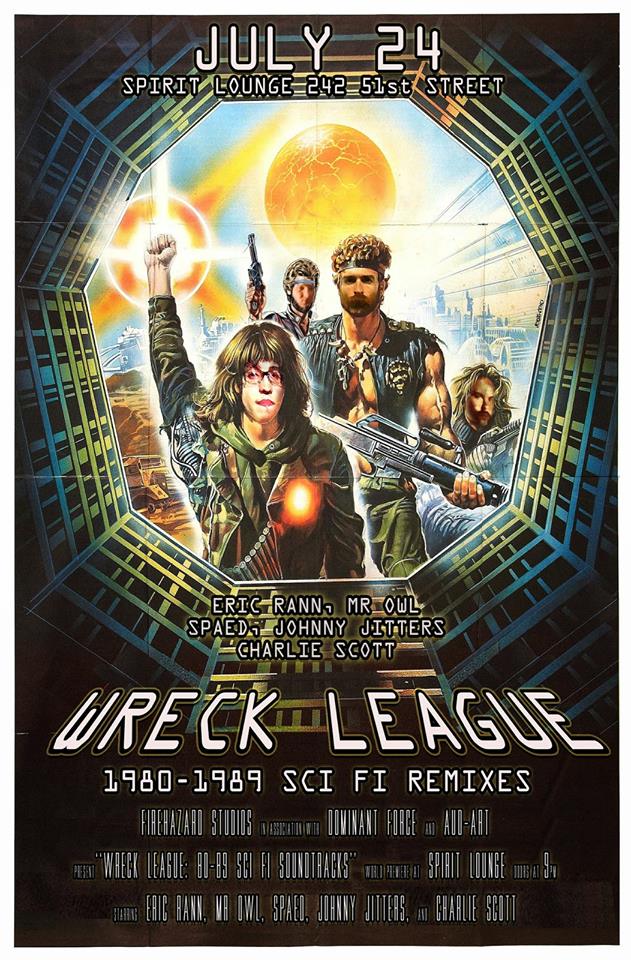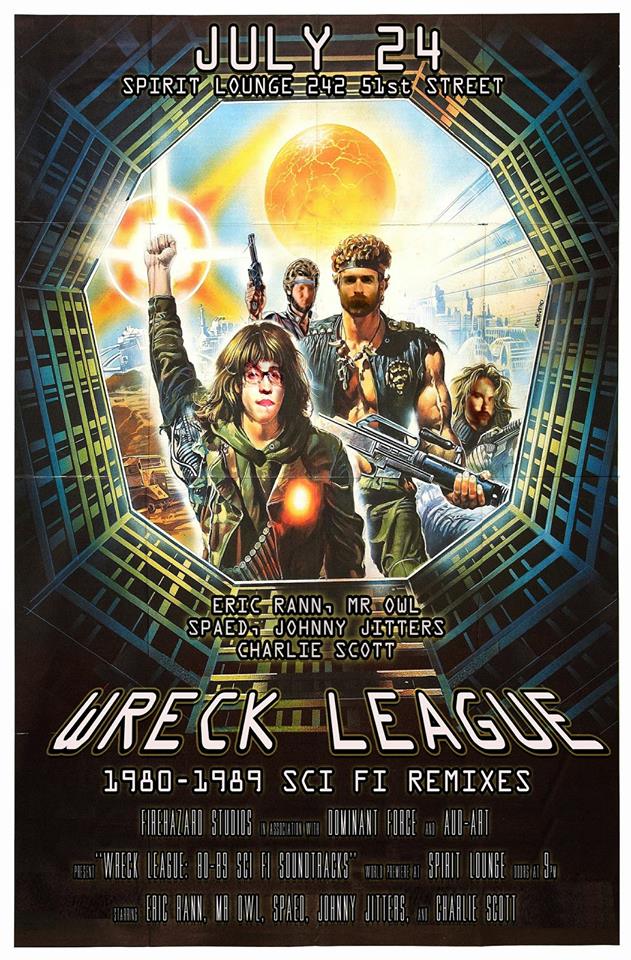 "In the year 2980, mankind thought every last sample was taken. They were wrong…"
Firehazard Studios x Dominant Force x Aud-Art present:
"WRECK LEAGUE: 80-89 SCI FI SOUNDTRACKS"
Fri July 24th, 9pm @ Spirit Lounge (242 51st St)
Starring:
✦ /// ERIC RANN
✦ /// MR. OWL x SPAED
✦ /// JOHNNY JITTERS
✦ /// and CHARLIE SCOTT
✦ /// visuals by KYLE THE SAINT
Wreck League is a custom remix party series which takes particular themes within cinema and pop culture and brings them to the dance floor for a one-night show. The rules are simple: we select a theme, and participating producers dig for sample material within the spectrum to remix. We play this material for one-time use to give attendees something they cannot find online. Audio and visual source material are weaved together, bringing in visual themes which match the music. From Hollywood classics to obscure foreign films, we promise to bring you every explosion, synth and laser you can handle in one action-packed night.
✦ 4 hours of original music from 4 remixers, sourcing samples from vinyl/VHS/CD/DVD soundtracks of 1980s sci fi films
✦ FREE Wreck League: 8089SF soundtrack ONLY AT THE DOOR includes 1 hour of selections – the other 3 hours of original beats played live will not be available anywhere, so BE THERE!
✦ Full VHS-quality video productions courtesy of Kyle the Saint
✦ Floor shaking bass cabinets
RSVP https://www.facebook.com/events/446365972210892/
SATURDAY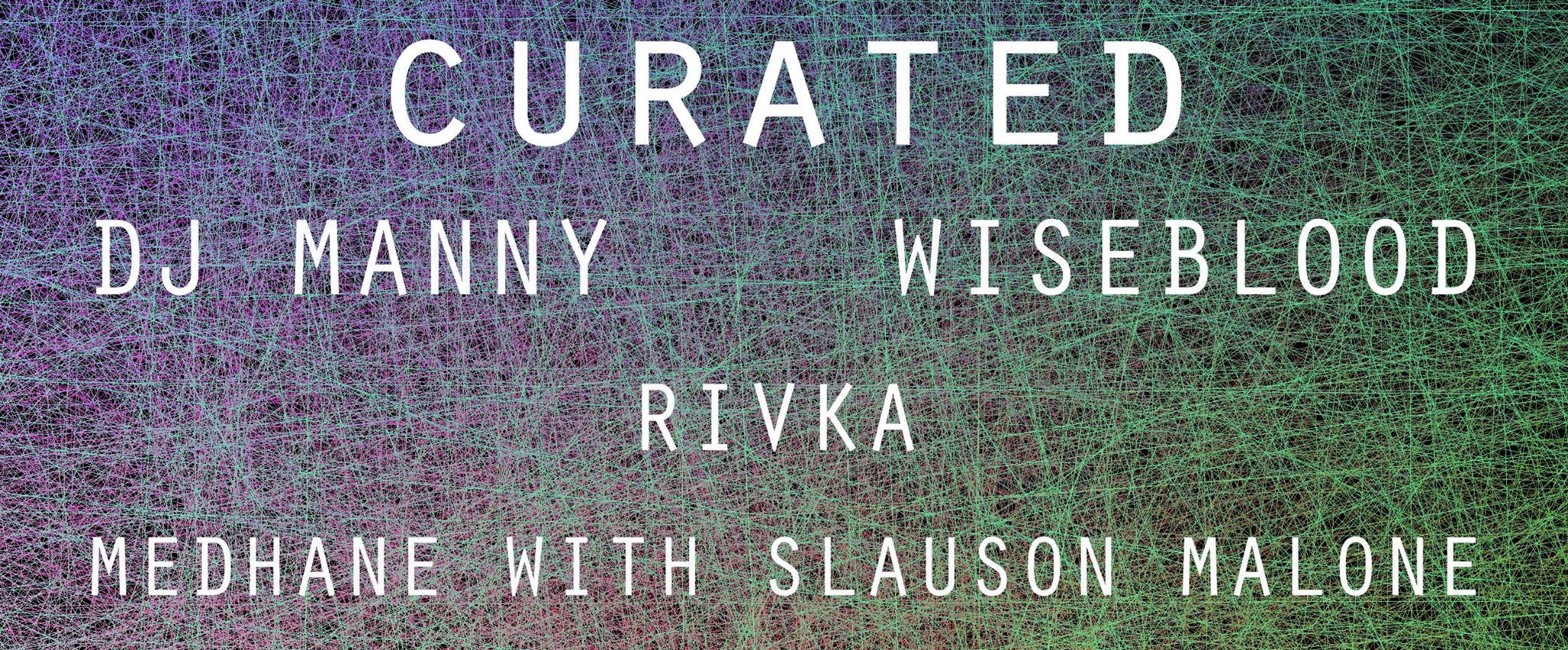 Curated is a cross platform audiovisual event that combines live visual art with music to deliver a unique sensory experience. The musicians in each showcase are hand picked, mixing and matching artists from various genres and regions. Join us as we celebrate the first installment.
$10 entry
free drinks
Music:
Medhane///Slauson Malone (NYC)
http://medhane.slausonmalone.com/
RIVKA (HOKO / PGH)

Wise Blood w/ special guest Moon Baby (DOVECOTE / PGH)

DJ Manny (TEKLIFE / CHI)

Visuals:
JULIE MALLIS-
Julie is a multimedia artist and VJ working with live visuals & projection mapping, video & animation, printmaking and sound. She has exhibited and performed her work nationally in Philadelphia, Pittsburgh, New York City and the San Francisco Bay.
http://www.juliemallis.com/
Spot:
BOOM CONCEPTS is an an art and performance space used for creative events, community meetings, film screenings, workshops and July's premiere day parties: BOOM after Brunch. BOOM Concepts is run by the Magic Organs Studio, Jenesis Magazine and Re:Innovating LLC, working across multiple arts platforms to provide a safe and productive space in Garfield.
BOOM Concepts
5139 Penn Ave, Pittsburgh, Pennsylvania 15224
RSVP https://www.facebook.com/events/1086514211373614/
—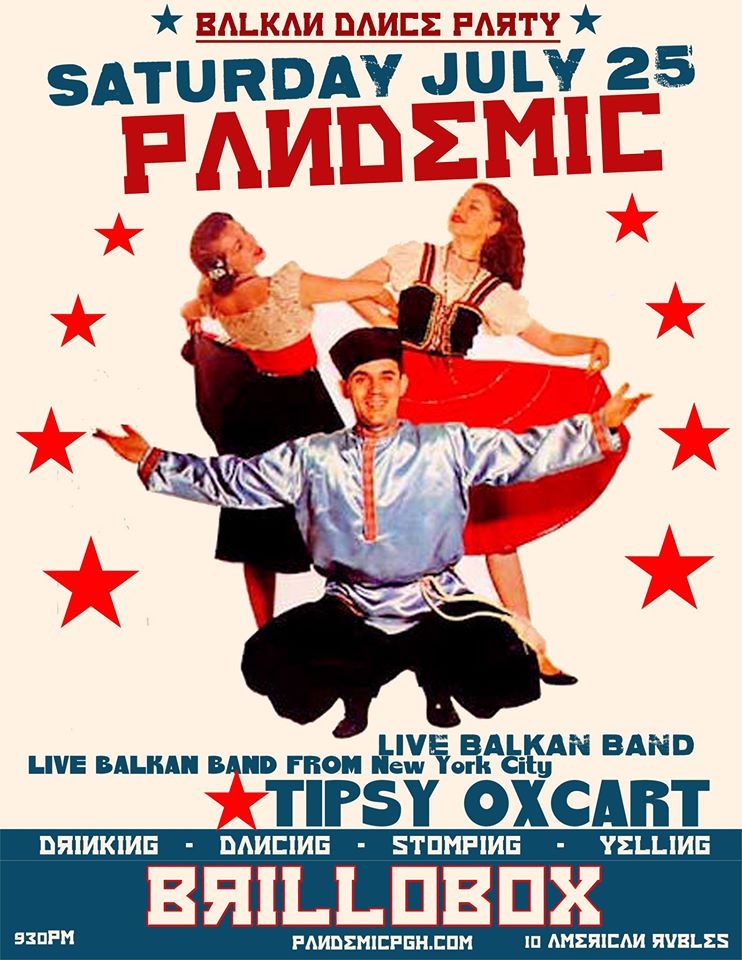 Live balkan band Tipsy Oxcart joins forces w/ Pandemic for a night of BALKAN DANCE MUSIC
$10
9:30pm start
brillobox
4104 Penn Ave, Pittsburgh, Pennsylvania 15224
Assorted Slogans/Taglines
"Electric, Sweaty, Bumpin' Balkan Music"
"Hot Balkan Originals & Tricked Out Traditionals"
"Funky Mediterranean Madness"
Our bio:
Tipsy Oxcart plays electric, sweaty, bumpin' Balkan music, channeling the spirit of 36 hour weddings to keep the crowds dancing until the sun comes up. Serving up originals and fresh, upbeat arrangements of urban dance tunes, the band deviously infuses the sounds of South-Eastern Europe with elements of funk, rock, and jazz. Dig naughty violin solos, atomic accordion grooves, freak-out clarinet, and the baddest rhythm section this side of the Mediterranean. A party with Tipsy Oxcart is guaranteed to shake the dance floor all night long!
RSVP https://www.facebook.com/events/846250782096647/
Sunday July 26, 8pm $8 adv/$10 door
Thunderbird Cafe, 4023 Butler St, Lawrenceville
BLUEPRINT
http://printmatic.net/
with Supastition
https://www.facebook.com/pages/Supastition/105761132790338
DJ Rare Groove
https://www.facebook.com/pages/Dj-Rare-Groove/104767259566111
MC Koala Tea
and Joey Smooth
https://www.facebook.com/JoeySmoooth
Al Shepard is better known by his stage name Blueprint, as an acclaimed indie hip-hop artist from Columbus, OH and a founder of Weightless Recordings. He is one-half of the duo Soul Position with producer RJD2 and a member of the group Greenhouse Effect with rapper Illogic. Blueprint began to reach a wider audience in 2002 when he appeared on "Final Frontier" from RJD2's debut album Deadringer. Since then, he has released two albums with RJD2 as Soul Position, and several solo albums on Rhymesayers Entertainment, including 1988 (2005) and Adventures in Counter-Culture (2011). In 2014, he released his latest album, Respect the Architect on Weightless Recordings, which was given a 9/10 rating by Rap Reviews. Over his career, Blueprint has appeared as a guest on over three dozen tracks by other artists, including the likes of Sage Francis, Aesop Rock, Eyedea & Abilities, Vast Aire, Mr. Lif, Jake One, Abstract Rude, Solillaquists of Sound, Mad Dukez & Fresh Kils, J. Rawls and Blockhead.
MONDAY
Really great atmospheric black metal show in a house space on monday. Highly recommended.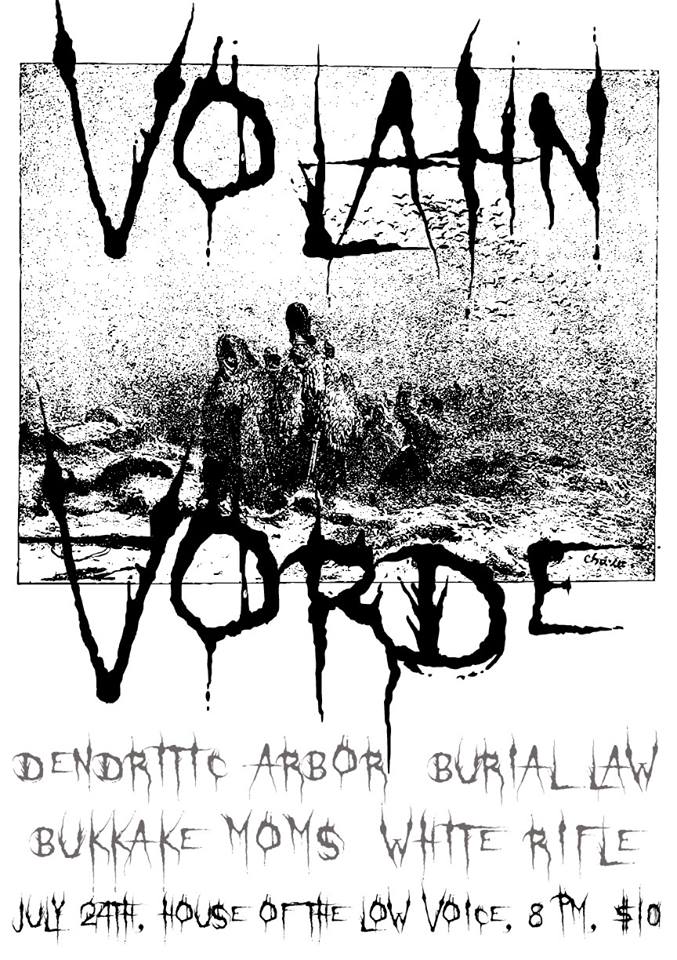 Monday night Madness presented by the house of the Low voice
July 27th, 2015
8pm music, $10 bucks (3 touring bands)
$1 beers, $5 buck six packs, food (donations accepted)
Volahn // Black Twilight Circle preeminent facet, Los Angeles.
Vorde // Haunting atmospheric black metal, NYC
Bukkake Moms // Confusing chaos brimming with clarity, Denton, TX
White Rifle // GOOF BOYS, Pittsburgh, PA
Taphos Nomos // War driven funeral doom, Pittsburgh, PA
Dendritic Arbor // Dark music, as always, Pittsburgh, PA
RSVP on here and PM them for the details… https://www.facebook.com/events/410959312445836/