It's halloween week. Halloween is friday. This will be a fun week.
MONDAY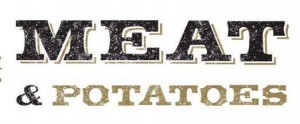 Every monday there is a night at Meat & Potatoes downtown, with rotating djs. This place has awesome food, and they always have cheap specials during this night. And there's
no cover. SO really, it's a no brainer of a night for mondays in pittsburgh, if you're up for going out. Tonight is Hank D, and his 2c:
This coming Monday is the 4th monday of October, so it's time for another installment of my monthly residency at Meat and Potatoes. Of course, the delicious late night menu will be offered, which is now a poutine menu, plus great drink specials as usual, to go along with the eclectic live mix I provide. A little Lykki Li mixed with some James Brown, and some Pharell thrown in for good measure. This monty I'll be dropping in some Halloween jams too.
Meat & Potatoes
649 Penn Ave, Pittsburgh, Pennsylvania 15222
TUESDAY
It's supposed to be over 70 degrees. GO OUTSIDE.
children of the nighttttt come out come out for a halloween bash!!
OCT. 29th
free for freaks
9pm screening "BAD TASTE"
FREE raffle prizes!
tattoo & piercing gift certificates from Alter Ego Body Art Studio!
occult jewelry from Mod Evil Studio!
dance/thrash about to punk, postpunk, goth etcetcetc after the horror flick w/ dj off the record (aka the vomiting rat aka Em DeMarco — and yes, she will be costumed for halloween)
$5 HOMEMADE VEGAN PUMPKIN SOUP dinner special from The Food Hole at Belvedere's
Belvederes Ultra-Dive
Pittsburgh, Pennsylvania
THURSDAY
The Bloomfield Halloween Parade is this night. Always fun. Meet up at Pollacks.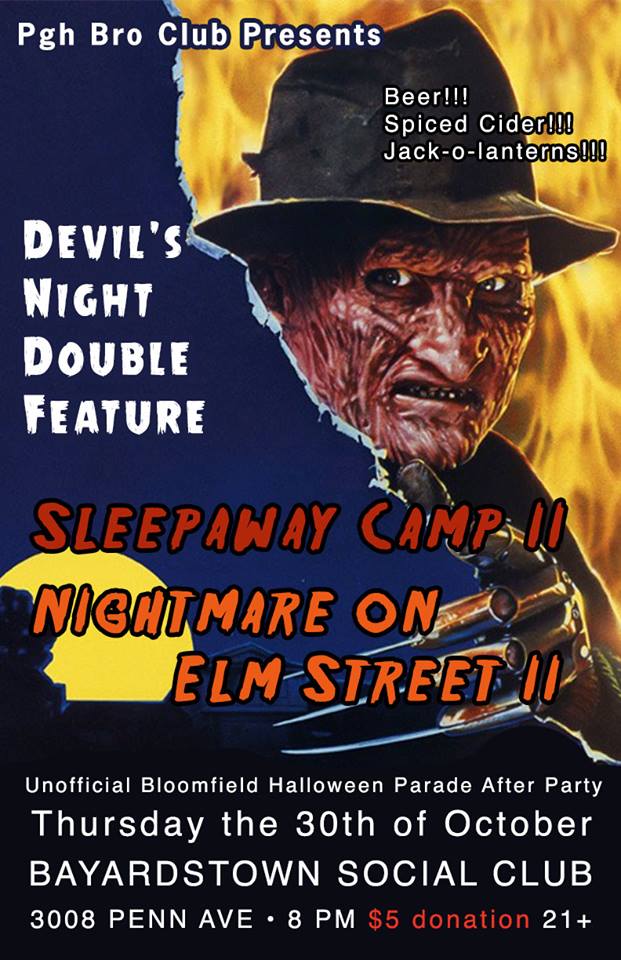 Thursday October 30th
Pgh Bro Club presents
Devil's Night Double Feature
(Unofficial Bloomfield Halloween Parade After-Party!)
Featuring ghoulish movies under the stars at Bayardstown Social Club
Sleepaway Camp II: Unhappy Campers (1988)
A Nightmare on Elm Street 2: Freddy's Revenge (1985)
there will be a keg of pumpkin beer!
there will be a real fire of damnation!
there will be s'mores!
there will be spiked punch!
BYOBooze
BYOSleepingBags/Blankets
BYOGhostStories
BYOScaryMovieSnacks
8pm-late
$5 suggested donation (to pay for the keg)
21+
Bayardstown Social Club
3008 Penn Ave
Pittsburgh, PA 15201
friday oct 31st
OBVIOUS
Halloween
featuring the FUZZ djs
presenting a selection of
fiendish bass music
sets from
Sean Kirby
Ninja Papes x Blacklisted
Absolut x Cutups
Diabolik Logic x SubQ
$5// 21+// 9:30 pm- 2:00 am
Belvederes Ultra-Dive
4016 Butler Street
Pittsburgh 15201
*costumes encouraged*
more info
https://www.facebook.com/obviouspgh
https://www.facebook.com/412dnbfuzz