Looking at picking this back up as October is typically super busy and full of events. Being busy myself has put a hamper on knocking
these out every week. But here goes. Picks for what to get into this week:
TUESDAY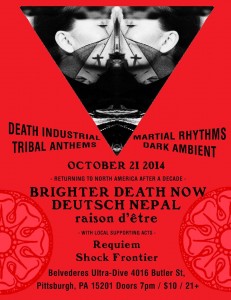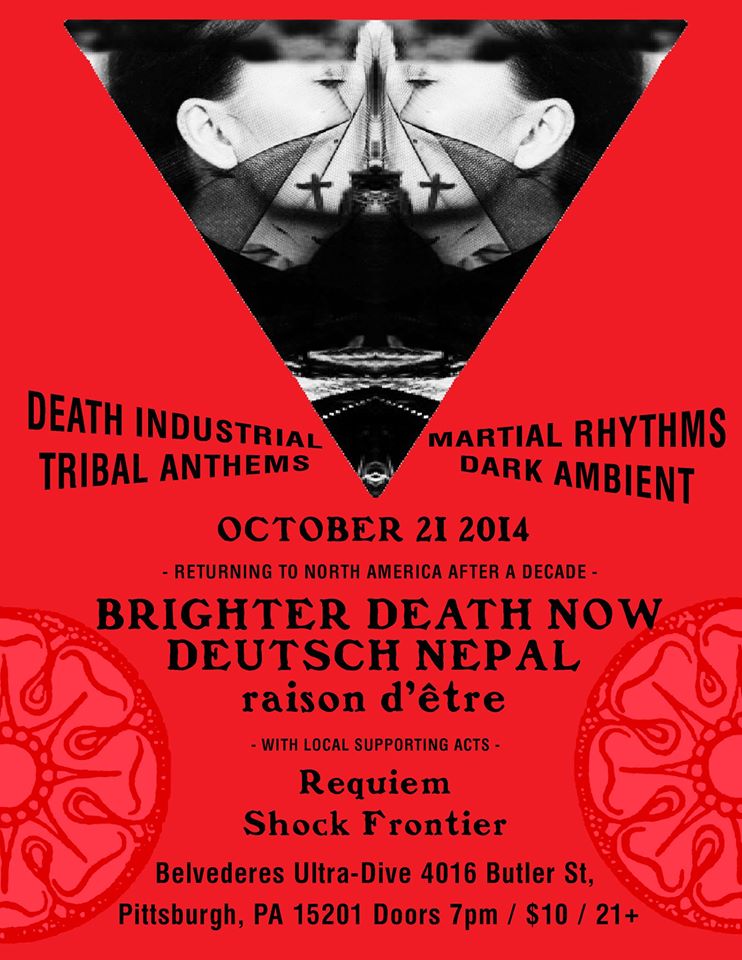 A once in a lifetime event for Steel City! Legendary Cold Meat Industry artists Brighter Death Now. Deutsch Nepal (Official) and Raison d'être (official) land on US shores. It's a Swedish Invasion!
BRIGHTER DEATH NOW (Swe)
BDN is one of the single most influential industrial acts of the past two decades. Responsible for the coinage of the genre that is known as "death industrial", Roger Karmanik — founder of the seminal record label COLD MEAT INDUSTRY — has provided the world with his own brand of cold, dismal and disgruntled power electronics/death industrial.
DEUTSCH NEPAL (Swe)
Herr Generalstaab Lina Baby Doll has been active as DEUTSCH NEPAL for more than two decades, having evolved over time into a sort of "industrial crooner", standing at the front and belting out tribal anthems over martial rhythms. Cheers to the end!
raison d'être (Swe)
Peter Andersson stands as one of the most important artists working under the "dark ambient" monicker, crafting some of the genre's most incredibly somber and emotionally charged work. Raison d'être is the sound of all hope nullified.
Requiem (US)
Pittsburgh native David Graham's project Requiem has been active since the mid to late 90s, pulling in influences from all across the industrial board. Twisted and dense dark ambient industrial soundscapes.
Shock Frontier (US)
Pittsburgh and Ohio based dark ambient/death industrial released by Malignant Records. This will be their first official live performance. Music for a crumbling society and born from a hatred for the human animal.
7PM-12AM
$10 21+
Belvederes Ultra Dive 4104 Butler Street
WEDNESDAY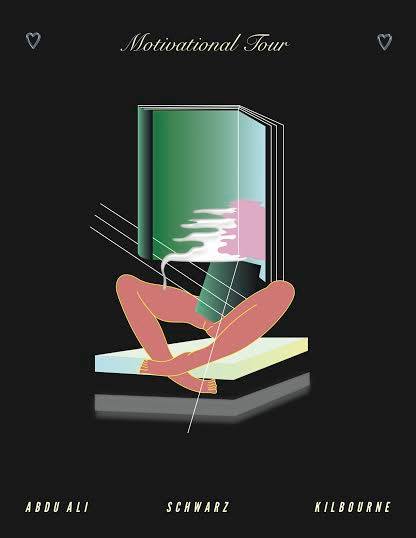 Wednesday October 22nd 2014
VIA + tcrps present
SCHWARZ + ABDU ALI + KILBOURNE
2014 MOTIVATIONAL TOUR
featuring
SCHWARZ (DJ set) [Baltimore, MD] ABDU ALI (live) [Baltimore, MD] KILBOURNE (DJ set) [Baltimore, MD]
plus
RIVKA (live) [Pgh, PA] WHITE TUXEDO (live) [#postlife: Pgh, PA]
$7
21+
brillobox
4104 Penn Ave.
Pittsburgh, PA 15224
SCHWARZ is a true inspirational club king for the future. On the mic he exists in a place between Andrew WK and Fatman Scoop. On the internet his original tracks and remixes reinvent genres and transcend contexts. He has been featured in SPIN, FACT, NOISEY and more.
ABDU ALI is a musician who raps, sings, and chants over unorthodox beats that smash together influences from club, noise and rap to create a singular style that feels fresh and boundless. Abdu Ali's musical force has pushed him to be a must-see performer, delivering riveting and cathartic shows. He has been featured in THE FADER, STEREOGUM, COMPLEX and more.
KILBOURNE is an emerging club producer whose frenetic tracks and remixes are constantly pushing the limit of the dance world. She has done mixes for THUMP and DIS, while also playing guitar in hardcore punk/grind band Pyka.
Together on tour Schwarz, Kilbourne, and Abdu Ali, are an enchanting and dynamic trio, showcasing as compelling symbols of the current state of DIY club, punk, and rap culture. BE MOTIVATED.


RIVKA

WHITE TUXEDO
White Tuxedo is a producer and DJ from Pittsburgh who daylights as a software engineer. Voted by his graduating class as most likely to be found playing at 3 AM to an empty basement.

10 PM – Midnight, DJ JOHNNY KAOTIC, followed by:
DROMEZ (Austin)
witchy harsh noise
https://www.facebook.com/DromezNoise
REGGIE RIV
electronic ambient/ noise trillwave
https://www.facebook.com/wearerivka
TROPIC
entheogenic synthgaze/ gonzo beats

Every week DJ EZ Lou presents Darkwave DJ's at Gus's Cafe Thursday Night bring you some of Pgh's Best DJ's with a varied interpretation of Dark Music. Tonight we feature Johnny Kaotic (Jon Gordon) Moving forward / Kikwear / NOWO
https://www.facebook.com/events/712876232135796/
Gus's Cafe
4717 Butler St, Pittsburgh, Pennsylvania 15201
Everybody knows it's easier to pull off that sexy shrimp costume with something substantial in your belly. And you need a steady hand to carve that heirloom pumpkin you spent $50 on, and you're not going to have an easy time pulling that off after all that yellow 5 and sugar. Maybe you just need some fresh eyes on those neon cat whiskers you're trying to pull off.
Either way, stop by for some wicked pho and fall pierogi- you can get a to-go in your pillowcase but we don't recommend it.
$10 BUFFET
$10 TAKEOUT (5 pierogi + bowl of pho)
As always, all vegan.
Follow us at Pierogi Night, and on twitter: @PierogiNight
Stephen Foster Community Center
286 Main St, Pittsburgh, Pennsylvania 15201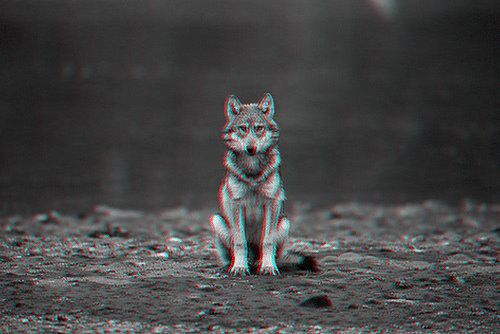 + Muyassar Kurdi (Chicago): avant-garde dark & noisy folk
http://muyassarkurdi.com/
+ Rob Jacobs of 'Wei Zhongle' (Chicago): trance ballads
http://robjacobs.bandcamp.com/
+ Gina Favano (Come Holy Spirit)

+ Radon Chong feat. Joshua Tenenbaum (Diane Grovel) on mystery soundz
Donation: $5-$7 recommended
— A late show, but be on time! Music will start promptly at 10pm! —
Bunker Projects 5106 Penn Ave, Pittsburgh, PA 15224 (upstairs)