Managed to check out Wolf Eyes and Gothtrad this past friday. In a way I wish they could have literally dovetailed, as there were lots of points of resonance between them. Art All Night was also enjoyable in the way that it celebrates everybody's talents on the same level without judgement. I'm so down with that. Shout out to Andres for making it even more fun.
Here's what's going on this week:
MONDAY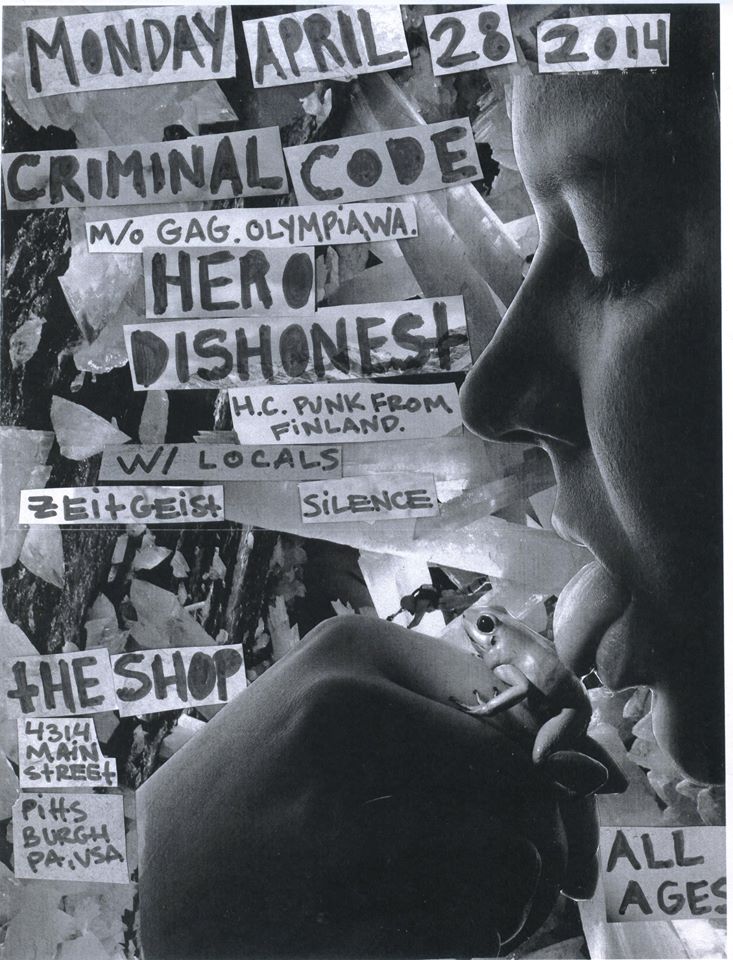 CRIMINAL CODE – ex GAG from OLYMPIA, WA on deranged records, iron lung records, etc.)
http://criminalcode.bandcamp.com/
HERO DISHONEST – hardcore punk from FINLAND
ZEITGEIST – babes in the front, parent in the back
SILENCE – dark post punk graveyard walking type jams
The Shop
4314 Main Street, Pittsburgh, Pennsylvania 15224
7PM
HOT DATE (Brooklyn)
http://talkingskullmtl.bandcamp.com/album/ts007-hot-date-hot-date-2
Shayna Dulberger – upright bass, electronics (cellular chaos)
Chris Welcome – guitar, electronics (mothguts)
In search of the same sound, an upright bass no longer functions in the supporting role and a guitar is not used as a melodic or chordal instrument. An instrument is only a tool used to achieve the whole palette of sounds. All hierarchy of pitch, rhythm and form are abolished. Any structures that occur arise independently and organically. From the highest to lowest frequencies and from the purest tones to the noisiest textures, all are achievable.
with
Dream Weapon
soundcloud.com/dreamweapon
Jim Storch
soundcloud.com/burnout-warcry
Hunted Creatures
at Bunker Brojects 5106 Penn Ave
$5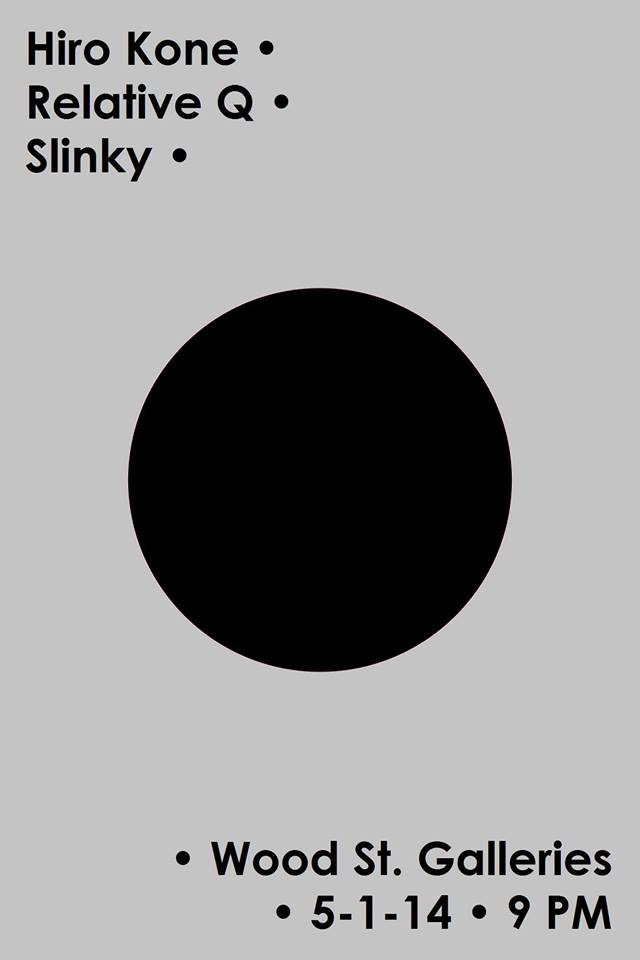 electronic music :
Hiro Kone (live) brooklyn

Relative Q (live) pittsburgh

Slinky (compact discs) pittsburgh
http://slynki.bandcamp.com/
admission : $7
beer : $1 each
ceci n'est pas une rave.
Wood Street Gallery 601 Wood Street
RSVP:
FRIDAY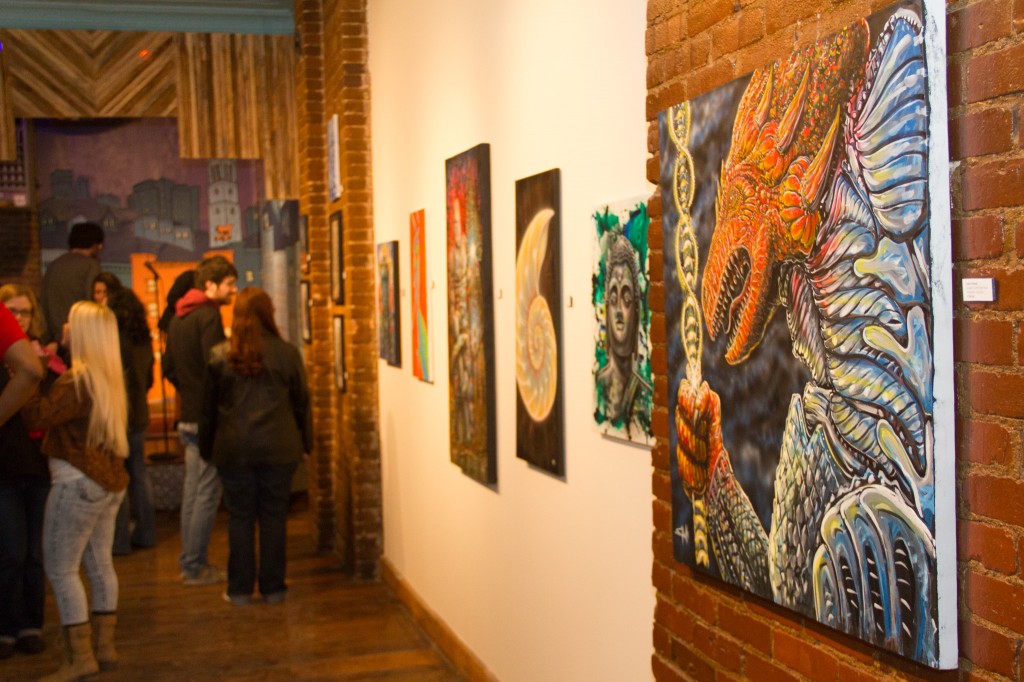 UNBLURRED Gallery Crawl all up and down Penn Ave. Too much to list. But Keebs and myself will be playing tunes
at Daily Bread / Streatheart 5450 Penn Ave during/after the crawl.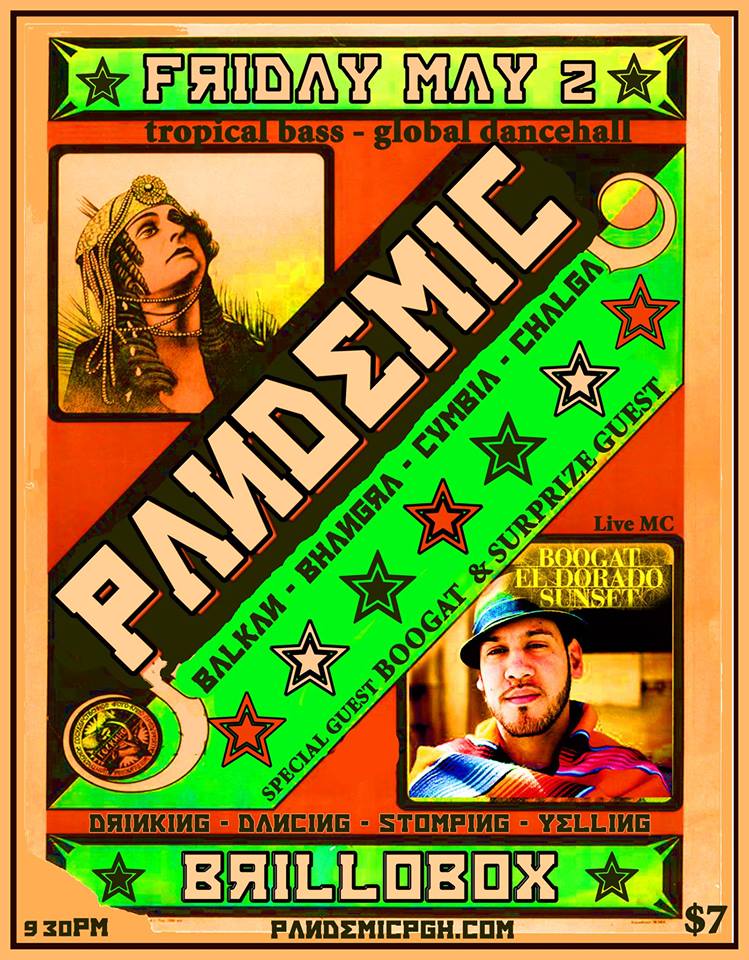 PANDEMIC
Friday May 2nd
PANDEMIC
wild world music party
featuring special guest BOOGAT plus surprise guests…
w/ Resident PANDEMIC PETE
RSVP: https://www.facebook.com/events/614089945340065
SATURDAY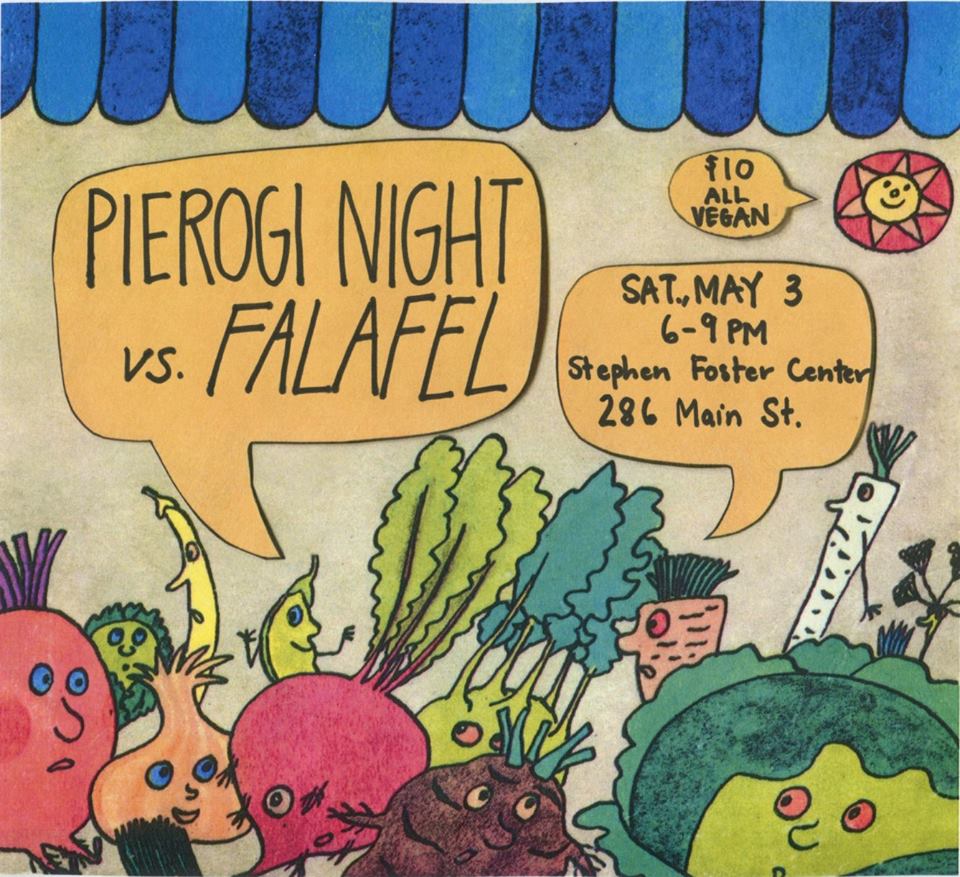 We're sorry to have kept you waiting- we falafel…..eh, eh?
Let us make it up to you with one of our favorites, some beautiful green balls with other stuff in a pita. We promise to handle with care.
That and 2 lovable pierogi- one's the young wild guy on the force, and the other is the grizzly veteran who's seen to many of these damn pierogi nights. Both are trying to figure out how to keep you guys full and off the streets!
You'll have to come out to see how it all works out.
$10 buffet
$10 take-out (5 pierogi + 1 falafel)
As always, all vegan.
Follow us Pierogi Night and twitter: @pieroginight
Stephen Foster Community Center
286 Main Street, Pittsburgh, Pennsylvania 15201
RSVP: https://www.facebook.com/events/559361547511454/
FILE UNDER: DIY FOOD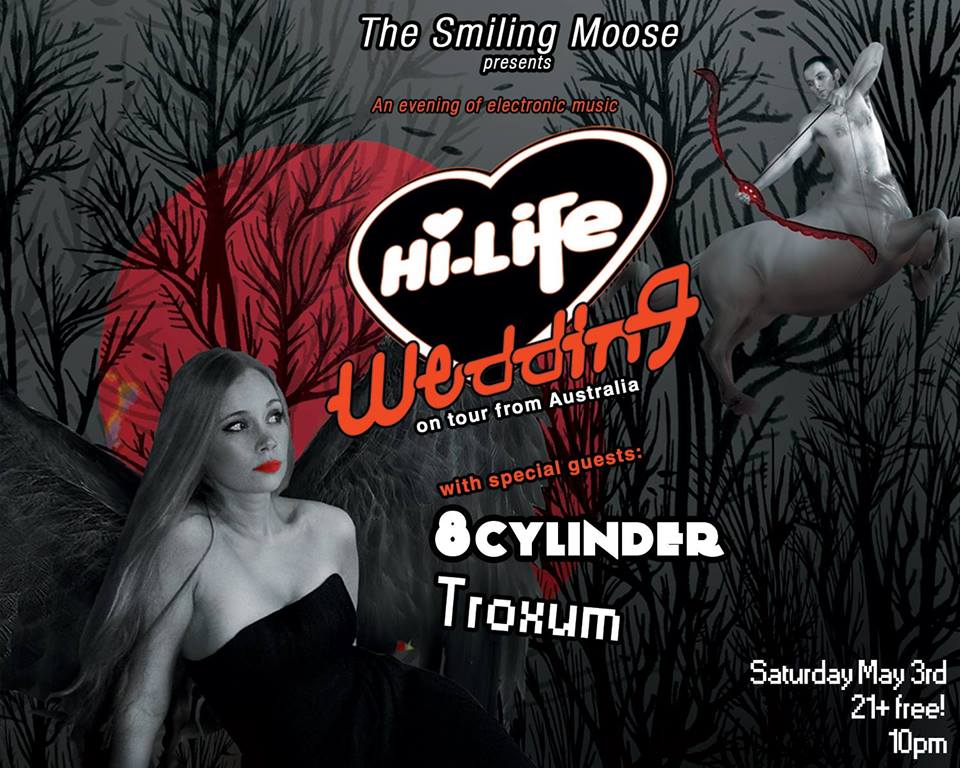 FREE Show of some great electronic bands!
10pm start
21+
Hi-Life Wedding (Electro Pop Duo on tour from Australia)
https://www.facebook.com/hilifewedding
Hailing from Darwin, NT this catchy duo hops around the whole world playing on many many coasts every year. Come check em out while they are stateside!
8Cylinder (PGH)
http://rhinoplex.org/8cylinder
"Early 8cylinder material was fast, aggressive breakcore — "people would move to it; it's not really dancing, it's more of a freak-out kind of thing" — but the most recent 8cylinder releases are more downtempo and cerebral. There are beats, but there's also noise and sound sculpture." – PGH CityPaper
Troxum (PGH)
https://www.facebook.com/troxum
Troxum is a cosmic electronic artist in Pittsburgh, PA. His music is inspired by rainforests, sub-atomic dance parties, terraforming planets and moonscape racetracks. His first EP Gaia Omen will be released on Telefuture Records in summer 2014 (http://telefuturenow.com/).
The Smiling Moose
1306 East Carson Street, Pittsburgh, Pennsylvania 15203
RSVP: https://www.facebook.com/events/689881697735757/
GO PENS!