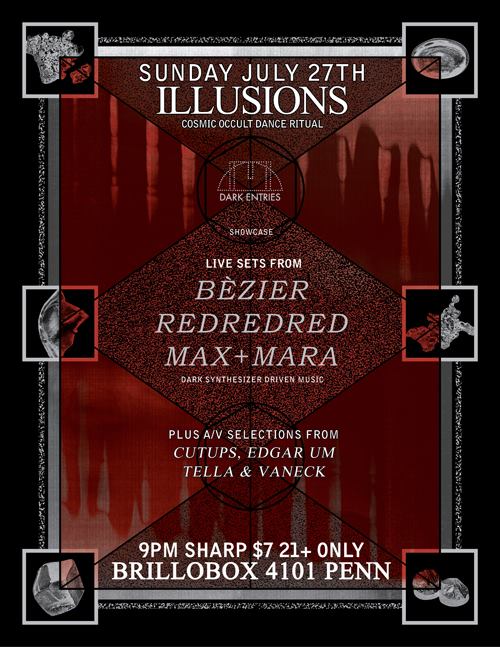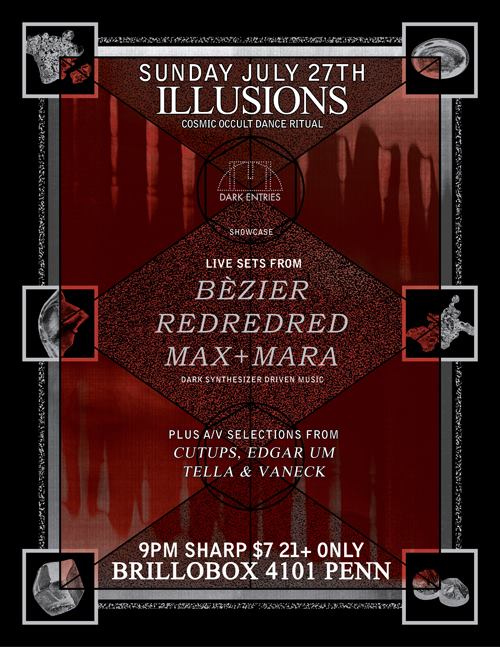 sunday july 27th
ILLUSIONS presents
Dark Entries 5th Anniversary label tour
with live sets from
dark, synthesizer based acts
BÉZIER
https://www.facebook.com/beziermusic
REDREDRED
https://www.facebook.com/REDREDRED000
MAX+MARA
https://www.facebook.com/maxandmara
plus A/V selections from
CUTUPS
EDGAR UM
TELLA
& VANECK
9PM sharp
$7 cover
at Brillobox
4104 Penn Ave
More info
Dark Entries Records
http://www.darkentriesrecords.com/
Bezier
https://www.facebook.com/beziermusic


Bézier is the moniker of all-live-analog electronic wizard Robert Yang from San Francisco. Enchanted by the Cybernetic Broadcasting System (CBS), Robert started DJing as Robot Hustle, joining the Honey Soundsystem collective in 2007. Robert writes hooks, patterns and melodies in an automatic, stream of consciousness fashion. Memory and nostalgia play a big part in constructing his music.
RedRedRed
https://www.facebook.com/REDREDRED000
Dark Entries is proud to introduce the debut album by REDREDRED, a contemporary artist from San Francisco. Michael Wood, formerly of duo Primary Colors, began this project in 2012, taking inspiration from Front 242, Einsturzende
Neubauten, Throbbing Gristle, Nietzsche and Sartre. Wood utilizes a simple setup of vintage analog synthesizers and drum machines, and records them on reel-to-reel.
Max+Mara
https://www.facebook.com/maxandmara

Collaboration of Mara (Group Rhoda) and Max (Brotman and Short), debut 'Less Ness' out on Dark Entries Records
This collaboration began in 2012. Max is based in Oakland and has been a part of various projects most notably Brotman and Short and his current solo work as Business Etiquette. Mara is based in San Francisco and is known for her solo work as Group Rhoda
On "Less Ness" they worked with a hardware set up: 808 and Elektron drum machine, Moog, MAM, and Sequential Circuits synth with splashes of Mono/Poly and collage elements, vocoder lines and dubbed out vocals. They step away from the the computer as much as possible and prefer that their ideas can be traced back to the tools so that a sense of physicality remains. They find inspiration from all kinds of far out sounds, most notably dub, industrial, and various drug culture tangents. Lyrically the songs revolve around topics such as escapism, looking though cultural windows, and character role development. Some songs are a bit more surrealist in content with elements of hard realism and critical commentary.
ILLUSIONS
is a reoccurring night featuring live acts and djs touching on the darker side. a mix of live acts, djs, video, and installation, we try to feature the best of new and classic dark dancefloor sounds occult techno, cosmic disco, post punk, death rock, witch house, minimal wave, shimmering bass, haunted pop, dark alternative, etc.
curated by cutups, edgar um, telladictorian and vaneck.