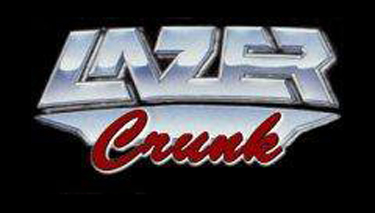 LAZERCRUNK is a monthly club night hosted by Cutups & Keebs, every 2nd Friday at the Brillobox, in Pittsburgh PA.
We feature our favorite guests from all over the world, as well as from around town who play and produce exciting and FUN dance music.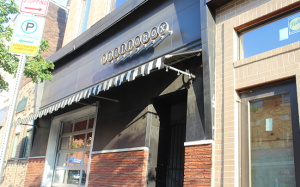 BIOGRAPHY
After working together on many different projects going back
to the rave days at the end of the 90s, we started some random one offs under the StackinPaper name in 2007, to focus on fun events that weren't genre specific. When a night freed up at the Brillobox, we started the monthly Lazercrunk in June 2008, keeping a similar idea of doing FUN, mixed up nights with guests who were doing the same.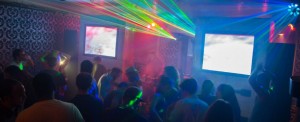 upcoming LAZERCRUNK
12/12 Spank Rock (Philadelphia)
past LAZERCRUNK nights
2014
11/14 Cutups & Keeb$
10/10 Distal (Atlanta)
9/12 HxdB (Vancouver)
8/15 SHARK WEEK w/ Cutups & Keeb$
7/11 Headphone Activist (PGH)
6/13 6TH ANNY w/ SHIFTEE (NYC)
5/9 ADVENTURE TIME PARTY w/ Cutups & Keeb$
4/11 JAW JAM (Tuff Wax, OH)
3/14 IKONIKA (Hyperdub, UK)
2/14 LAZERCRUNK AUDIO 001 Release w/ Le Moti & Beedie
1/10 Mr. Dug
2013
12/13 KINGDOM (fade to mind, LA)
11/8 SELFIE PARTY w/ Rsk, Hank D, Bamboo
10/11 DRUID CLOAK (Symbols / Columbus OH)
9/14 LAZERCRUNK w/ Cutups & Keebs @ Brillobox
8/9 STACKIN PAPER w/ Myrryrs (PHX) @ Belvederes
7/12 COMPUTER PARTY w/ Cutups & Keeb$
6/14 STARKEY (Seclusiass, Philly)
5/10 Pizza Party w/ Le Moti (Street Ritual, Pgh)
4/11 Bombe & Battle Axe Baby (Pagan Disco, Philly)
3/21 HxDb (Hot & Heavy, Vancouver)
2/14 DISTAL (T&B, Atlanta)
1/10 Cutups & Keeb$ kicking off 2013
2012
12/31 NYYE w/ Mike Q & Brenmar
12/13 MANIKAN (seclusias, alt)
11/8 James Gyre & Mr Hamilton (Pgh)
10/19 DEATHFACE (t&b, nyc)
9/13 RIZZLA (fade to mind, boston)
8/2 SINJIN HAWKE & Zora Jones (Spain)
7/3 DEV79 (Seclusiasis, Philly) – LC 4th of July Party
6/7/12 EPROM (sf) & Clicks & Whistles (NC) – 4th BDAY!
5/2/12 Local & Diabolik Logic (pgh)
4/7/12 LETHAL WEAPONS (Yamez + Cobra Krames)
3/1/12 WHEEZ-IE (Well-Rounded, Boston)
2/2/12 Thunder St. Claire (Cle) & Tracksploitation (Pgh)
1/5/12 LC2011 Mashup w/ Cutups & Keeb$
2011
12/31/11 SHINY SHINY nye w/ GetWeird & EarthlyDelights crews
12/1/11 B. BRAVO (Frite Nite, SF)
11/3/11 CLICKS & WHISTLES (Embassy, NC)
9/29/11 Dr Edwyn and Jx4 (PGH)
9/1/11 Cosmic Revenge (Frite Nite, SF)
8/13/11 Still Life (BASED, Cleveland)
7/3/11 LAZERCRUNK: FUCK YEAH! w/ Chrissy Murderbot (PlanetMu, Chicago)
– no june date we did get weird instead –
5/5/11 EAT CAKE LIKE A BOSS w/ Hank D (PGH)
4/7/11 MOCHIPET (DalyCity, SF)
3/3/11 BOLLYHOOD w/ BONICS & JASON BURNS
2/3/11 UDACHI (Nightshifters / PartyLikeUs NYC)
1/6/11 B.RICH (Party Like Us, PGH)
2010
12/5/10 FREDDY TODD (Simplify – Detroit)
11/4/10 Victor Hugonot & Noetic5000
10/7/10 DUBBEL DUTCH (Palms Out – Austin)
9/2/10 RED FOX & DEVNULL (<3THROB, Boston) 8/6/10 MEXICOCITY INVASION w/ THE CAPTAIN (T&B – NYC) & B.Rich 7/1/10 LAZERCOLA w/ Rx (Pfunkt) & Kid Cassady 6/4/10 SOPHOMORE DANCE w/ Ed Um & Ace-C 5/6/10 DEATHFACE (T&B – NYC) 4/17/10 TOMB CREW (UK) 4/1/10 *THE PICKLE!!!* w/ DJ NUGGET (PGH) 3/4/10 LAZERSWORD (NYC) 2/19/10 KANJI KINETIC (UK) w/ Ekofield + DJs @ Brillobox 2/4/10 TIGHTEN UP (Houston & Illy MC) – DC/Philly 1/7/10 Hearts of Darknesses vs Girltalk DJ set (NY/PGH) 2009 12/3/09 DESIGNER DRUGS (IHEARTCOMIX – NYC) 11/5/09 B.RICH (Party Like Us – Pgh!) 10/1/09 DEV79 (Seclusiasis – Street Bass – Philly) 9/3/09 EMYND (Philly, crossfadedbacon.com) 8/1/09 LAZERCRUNK Cool Weekend Party w/ Dan Dabber & Depth 7/2/09 NATE DAY (LA) & ILLY MC (PHI) 6/4/09 OH-SNAP (MD) – 1-YR ANNIVERSARY! 5/7/09 RRRUMP (ATLANTA) – Keeb$ B-Day Party 4/16/09 DIPLO w/ LC, Nugget, Commonwealth Fam @ Diesel 3/19/09 *B*LAZERCRUNK w/ Party With A Capitol P 2/19/09 THE AMERICAN DREAM TEAM (NYC) 1/15/09 LAZERCRUNK "Foam Party" w/ Temisan Adoki 2008 12/18/08 MATH HEAD (NYC) 11/20/08 E-SIX & ROAN (CHI) 10/16/08 LET ME RIDE (PHI) 9/18/08 LAZER-TAG-TEAM w/ rukkus, doverspike, natty boh and rar kelly 8/21/08 PHINESSE (PGH/PHI) 7/17/08 ALIAS & EGYPTRIX (TORONTO) 6/19/08 LAZERCRUNK! BLAST-OFF w/ Cutups & Keeb$ More The idea of the night is to mix up fun, cutting edge post-genre dance music: electro crunk, new rave, street bass, indie dance, b-more bashment, robot rock, toxic dancehall, soul refixes, party mashup sounds, etc. WEB http://lazercrunk.com