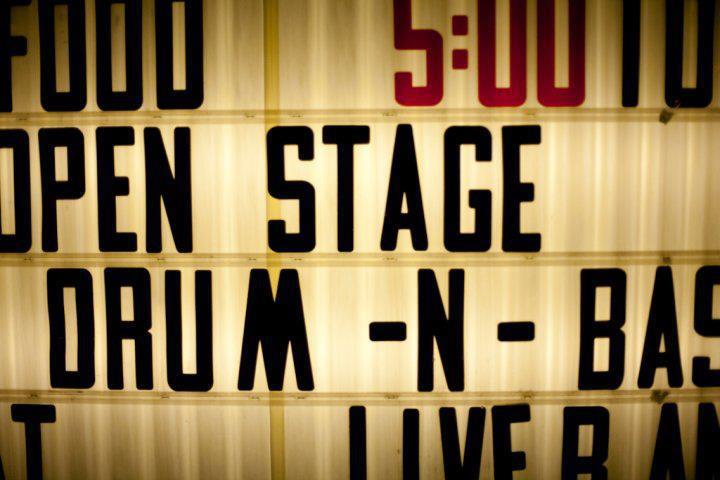 After 13+ years as the unofficial home for Drum and Bass music in Pittsburgh, FUZZ at the Bloomfield Bridge Tavern is ended it's Wednesday night weekly as of January 29th, 2014.
FUZZ was founded in 2000 as "FUZE" at a time when Drum & Bass was vital in Pittsburgh, but had to claim it's own identity away from the rave and club scene. The BBT, as a "dive" bar that had never hosted electronic music or djs, was a surprising choice to some, but to others it was an immediate and perfect fit. As an unpretentious, intimate shot and beer bar where we could be ourselves and present an uncompromising vision of drum and bass music, it was just right. In the first year , the 412DNB crew coalesced out of like minded djs and fans, with everybody putting in work on djing, promotion, graphics design, bookings and legwork. Over the years, people came and went, but a few things always remained the same. Nobody ever took home money as part of the crew. We always rolled our door charge into bringing in the best local, national and international D&B talent, as well as breaking in other new sounds in the bass music spectrum. It's been a fun ride seeing so many great headliners, and great locals smashing the place week after week.
Ending the Wednesday weekly wasn't an easy choice, but for various reasons, it was one who's time has come.
We'd like to offer humble and great thanks to Steve, Sheila, Carl and Greg, for putting up with the slow nights and the absolutely rammed nights. You've been great hosts and friends to us, and we'll never forget that (or your Pierogis!) We also can't say enough about Bob Teagarden. Every week for most of the run he hauled in massive sound before the show and tore it down afterwards. When we wanted to up the ante, he was there with the extra trailer of massive subs. Without him, FUZZ would not be what it was. Massive shout outs to all the local djs who have performed at FUZZ. Everybody knows the locals are often better than the headliners, and FUZZ was a night that proved this maxim true.
Most of all we want to thank everybody who has come out on Wednesdays over the years, whether you were a regular face or could only occasionally come out and ruin your Thursday morning at work – we appreciate your support and will always remember (well, if we can) the great times we had throwing the goat and raising up lighters.
FUZZ SHOWS (still filling in)
2014
1/29/24 FUZZ finale party w/ 412dnb crew @ brillobox
1/15/14 FUZZ w/ Kirby & Cutups @ BBT 21+ #drum-and-bass
2013
12/4/13 FUZZ w/ Cutups @ BBT #jungle
7/17/13 FUZZ w/ Friske w/ Cutups @ BBT
2012
10/10/12 FUZZ! w/ Bailey (UK) + Cutups @ BBT
9/26/12 FUZZ! w/ Artificial Intelligence @ BBT
2011
9/21/11 FUZZ! w. SPY
4/6/11 FUZZ w/ Total Science w/ SubQ @ BBT
3/2/11 FUZZ w/ Gridlock (LA) @ BBT
2010
8/11/10 FUZZ w/ Seba (Sw) @ BBT
7/28/10 FUZZ w/ Breakage + Cutups @ BBT
7/14/10 FUZZ w/ Invaderz & Kastle @ BBT
6/16/10 FUZZ w/ Sinistarr w/ Brian Bullets & Cutups @ BBT
3/17/10 FUZZ w/ Cutups
2009
9/23/09 FUZZ w/ N-Type @ BBT
7/29/09 FUZZ w/ Xanopticon w/ Subdivision, Cutups & Keebs @ BBT
6/10/09 FUZZ w/ FANU w/ Cutups & Natty Boh Peep @ BBT
3/25/09 FUZZ! w/ Ed Rush (UK) with Depth One, Cutups & Keeb$ BBT in Pittsburgh 21+ 10PM $15
3/4/09 FUZZ w/ Reso w/ Alaska & Kirby @ BBT
2008
2007
12/5/07 FUZZ! with NOIZECREATOR (germany) breakcore from dresden plus residents absolut and cutups BBT in Pittsburgh 21+ 10PM $3
11/21/07 FUZZ! w/ KLUTE plus Jason Burns + ABZ, Cutups and Excempt. Bloomfield Bridge Tavern in Pittsburgh 21+ 1PM $5
9/26/07 FUZZ! w/ X&Trick (Belgium) + Xanopticon X&Trick, live breakcore/jungle/idm on BugKlinik records from Belgium plus Xanopticon and Cutups. Bloomfield Bridge Tavern in Pittsburgh 21+ 10PM $5
7/11/07 FUZZ! w/ GEIN (milwuakee) special guest abel gein plus sets from cutups and the rock BBT in Pittsburgh 21+ 10PM $4
6/27/07 FUZZ! Resident Mashup Ratana vs Cutups, Ben vs ABZ, Depth vs Absolut, Alaska vs Ra BBT in Pittsburgh 21+ 10PM $2
1/24/07 FUZZ! Drum & Bass Weekly Ben Smith, Absolut, Cutups BBT in Pittsburgh 21+ 10PM $2
1/3/07 FUZZ! Downtempo Night ABZ, X-Ray and Cutups BBT in Pittsburgh All Ages 10PM $2
2006
5/17/06 FUZZ w/ Doormouse and Anonymous live + dj sets from anonymouse, cutups & absolut @ bbt
2/1/06 FUZZ! 412DNB Tagteams 10 – Jay n Ben, 11 – John and Curtiss, 12 – Cutups n Todd, 1 – Adam n Adam BBT in Pittsburgh 21+ 10PM $2
1/4/06 FUZZ! Post-NY Mashup all the residents doing tag-team sets. 10 cutups + absolut, 11 abz + ratana, 12 ben + alaska, 1 ra + depth BBT in Pittsburgh 21+ 10PM $2
2005
11/30/05 FUZZ! D&B Weekly with Ben Smith, Darkcyde and Cutups BBT in Pittsburgh 21+ 10PM $2
11/9/05 FUZZ w/ DJ SS, Influx UK, Kay! an insane lineup for the bbt! plus cutups opening with 92-95 classics. $7 before 11PM, $10 after BBT in Pittsburgh 21+ 10PM $10
8/10/05 FUZZ! D&B Weekly with Cutups, Trichrome and Ra BBT in Pittsburgh 21+ 10PM $2 http://fuzz.412dnb.com
6/29/05 FUZZ! w/ HIVE (Los Angeles) Violence / Phunkatek, from Los Angeles plus locals CUTUPS and DEPTH BBT in Pittsburgh 21+ 10PM $5 http://fuzz.412dnb.com
3/2/05 FUZZ! w/ Mike BEE (SF) plus Midas and Cutups BBT in Pittsburgh 21+ 10PM $2 http://fuzz.412dnb.com
1/19/05 FUZZ with Yamez, Cutups and Ben Carter BBT in Pittsburgh 21+ 10PM $2 http://fuzz.412dnb.com
2004
12/8/04 FUZZ: the Raggaclash Reggae Bus, Yamez and Cutups vs Frankie G. the BBT in Pittsburgh 21+ 10PM $2 412dnb.com
7/14/04 FUZZ Noise Machine + Illy MC, Adam Bomb and Cutups.Bloomfield Bridge Tavern in Pittsburgh 21+ 10PM $3 http://412dnb.com
5/12/04 FUZZ D&B Weekly w/ Cutups, Alaska, Ben BBT in Pittsburgh 21+ 10PM $0 http://412dnb.com
4/4/04 FUZE D&B Weekly w/ Rudy vs Baxter, Still Life and local Cutups. BBT in Pittsburgh 21+ 10PM $3 http://www.412dnb.com
3/3/04 FUZE w/ PSIDREAM FUZE special with PSIDREAM plus residents Bagel and Cutups. Bloomfield Bridge Tavern in Pittsburgh 21+ 5PM $5 http://www.412dnb.com
2003
2002
11/6/02 FUZE Walkingstick, Cutups. Ragga set. BBT in Pittsburgh 21+ 10PM $2
10/23/02 FUZE Cutups. Intell/Technical set. BBT in Pittsburgh 21+ 10PM $2
6/5/02 FUZE Cutups. Ratana's Bday BBT in Pittsburgh 21+ 10PM $2
3/6/02 FUZE Cutups. BBT in Pittsburgh 21+ 10PM $2 http://412dnb.com
1/2/02 FUZE Cutups. BBT in Pittsburgh 21+ 10PM $2 http://412dnb.com
2001
11/14/01 FUZE Cutups. BBT in Pittsburgh 21+ 10PM $2 http://412dnb.com
3/28/01 FUZE Cutups. BBT in Pittsburgh 21+ 10PM $3 http://412dnb.com
2000
12/6/00 FUZE Cutups. BBT in Pittsburgh 21+ 10PM $2 http://412dnb.com